Publish-date: Jun 30 2020 Update-date: Jul 22 2020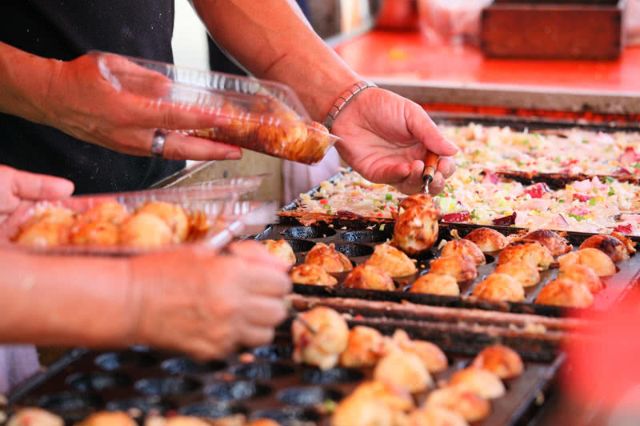 Unlike night markets in countries like Taiwan, Japanese night markets are only open on special occasions. Have you visited one before? Read on to find out more about when Japanese night markets operate, as well as where to sample Japanese night market delicacies even if you can't visit one while you're in Japan!

Japanese Festivities: The Origin of Japanese Night Markets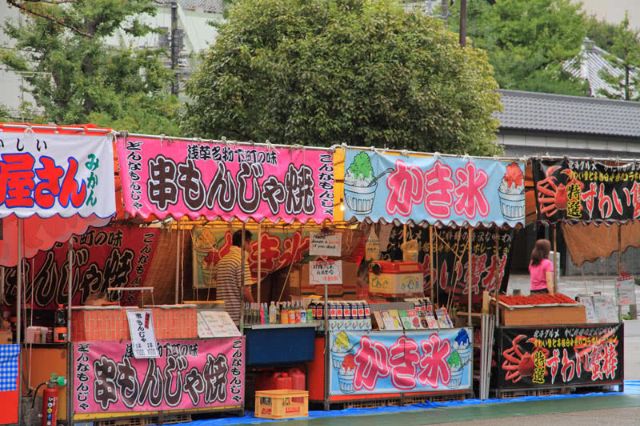 Yatai (street-side food stalls) in Japan can be traced back to the Edo period, though night bazaars didn't make their debut until after WWII.

Where there are people, there is business. Hawkers would set up their stalls near shrines and temples during the New Year's or Ennichi (a day thought to have a special relation with a particular Japanese deity), which were times when many people would visit to worship. Over time, the night market has become an integral part of Japanese festivities. Nowadays, some people even drop by holy grounds just to explore the night market!

Today, Japanese night markets continue to operate at the same times, meaning during Ennichi and any festivals. To accommodate tourists, smaller night bazaars are also held on weekdays, even during non-festive periods, at popular sightseeing spots like Ueno Park and Sensoji Temple. If you're interested in exploring a Japanese night market to learn more about the local culture, these might be good places to include in your travel itinerary.

Signature Japanese Night Market Foods
Japanese night markets are similar to those in countries like Taiwan; they both feature a lot of food stalls and some game stalls like shooting. Most foods are cooked teppanyaki (Japanese cuisine cooked on an iron griddle) style, since it is easy to prepare. Some of them have been consumed and loved ever since night markets first became a thing in Japan, and no night market is complete without them.

1. Takoyaki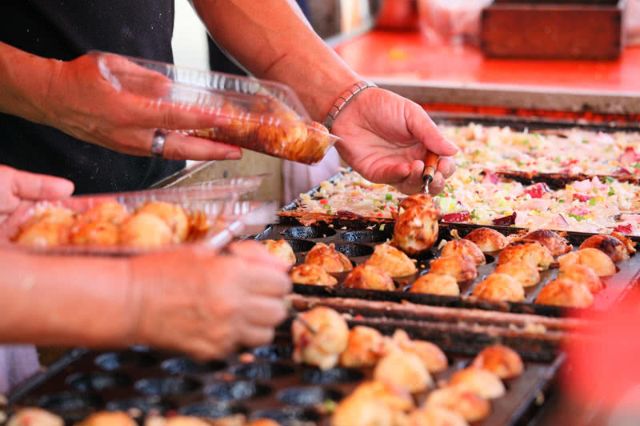 Takoyaki (octopus balls) stalls in night bazaars have a special place in the hearts of Japanese people. Not only is the takoyaki larger than usual, it is also a collective memory among locals to get their tongues scalded by freshly made takoyaki!

In the past, the popular takoyaki was actually [radio-yaki], and it used beef tendon instead of octopus. Eventually, people were inspired by akashiyaki (octopus balls dipped in broth) and switched over to using octopus, which had a better texture and was cheaper.
Takoyaki sold in night markets are usually Osaka style, although sometimes you may find other variations from different localities, such as the Kobe-style takoyaki and bakudan-yaki.
2. Karaage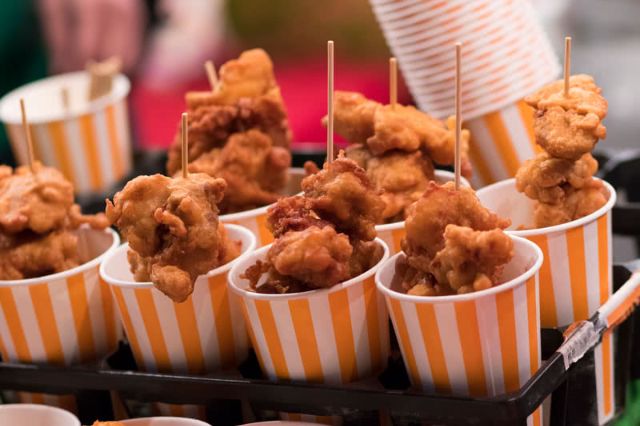 Karaage (deep-fried chicken) is perhaps the most popular savory night market treat among middle school and high school students. For this dish, extra-large bites of chicken are normally put into a cup, making it very convenient to eat while walking.

Every fried chicken stall has its own selling point; some are from a famous restaurant or have earned an award, while some use juicy and tender chicken meat sourced from Hokkaido. Try them all to see if you can tell the difference!

3. Grilled Squid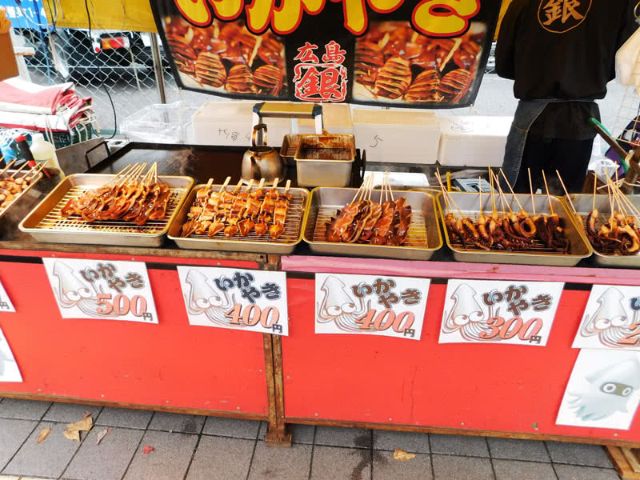 Nothing is as mouthwatering as the aroma of grilled squid in a night market. That said, although the word [grilled] is in the name, this dish is not actually grilled; rather, it is fried on a hot plate and seasoned with garlic sauce.

As it is hard to cook at home, grilled squid stalls often attract long queues. You can choose the squid tentacles, half a squid, or a whole squid. We recommend trying the tentacles first to make sure the flavor is to your liking, then proceed to order more.
4. Candy Apple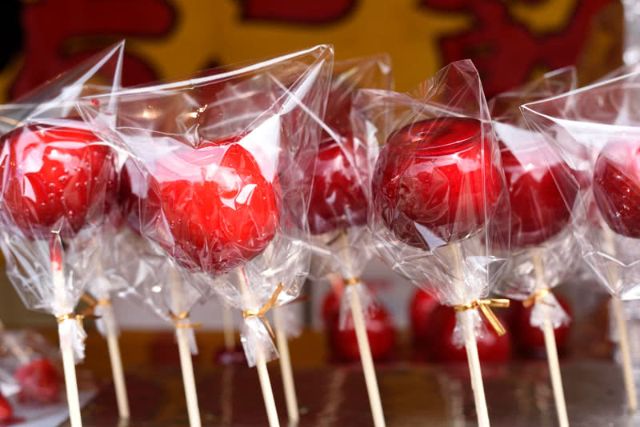 In Japan, you will mostly only see candy apples being sold at Japanese night markets. This special sweet is beloved by children. It is prepared by skewering an apple, dipping it into sugar syrup, and swirling it until the syrup coating hardens.

Apart from apples, there are also candy strawberries, candy grapes, candy oranges, and so on. If you are lucky, you might come across the rare candy apricot, made by coating pickled apricots with syrup – do give it a try!

5. Yakisoba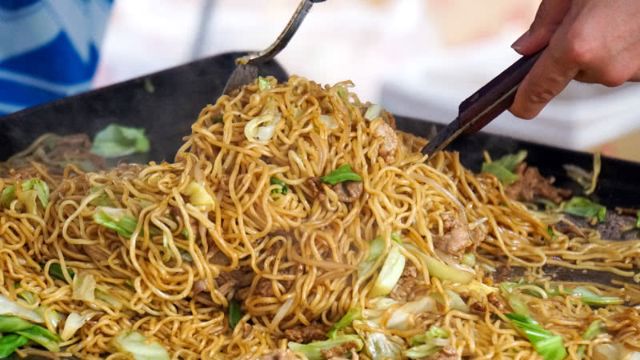 Yakisoba (stir-fried noodles) is the night market dish that will keep you full. Its main ingredients include cabbage, meat, fried noodles, and sometimes dried shrimp. Pickled red ginger is added as a finishing touch.

Food stalls will generally portion out servings of yakisoba in such a generous way that the noodles are literally overflowing from the container. Whilst it is somewhat of a hassle to handle, yakisoba is definitely the best choice in terms of serving size and fullness.

Can't Make It to a Night Market? Visit These Restaurants Instead
Couldn't fit a trip to a Japanese night bazaar into your itinerary? No worries, the following restaurants offer night market delicacies so that you can indulge your taste buds whenever and wherever you want!

HACHI HACHI Ikebukuro West Exit Branch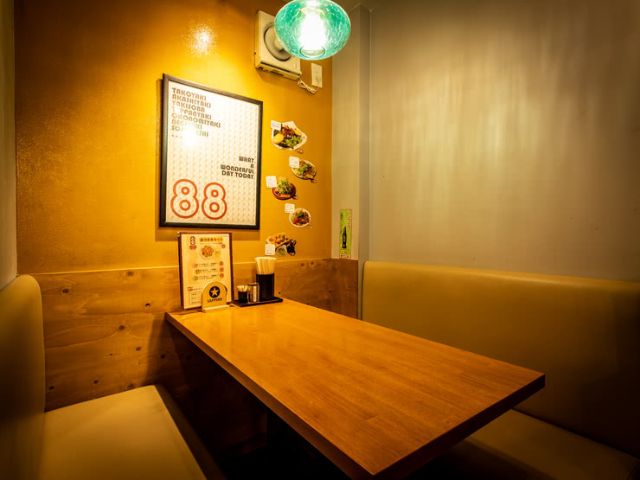 HACHI HACHI Ikebukuro West Exit Branch is an izakaya (Japanese pub) chain aspiring to bring authentic Osaka cuisine to different parts of Japan. From takoyaki to yakisoba, you can enjoy all sorts of Kansai dishes in a comfortable setting.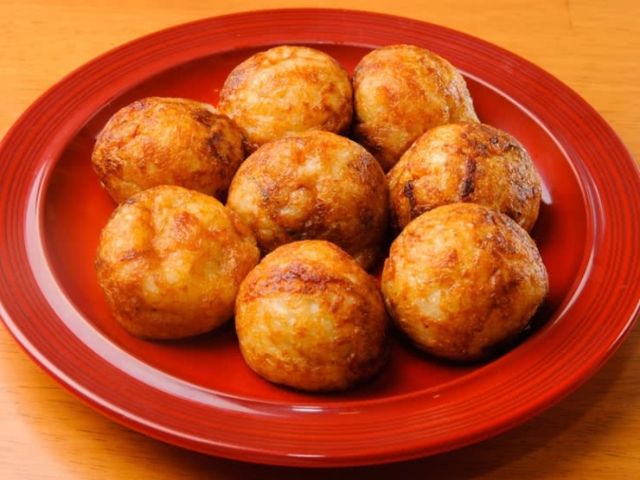 Here, even the common takoyaki shines brightly. They follow Takoyaki Yamachan, a famous starred restaurant in Osaka, in the way of making takoyaki, which is why their takoyaki are delicious even without toppings like mayonnaise and bonito flakes. They also put extra care into the broth used to make the batter as well as the entire frying process. Don't miss out on this izakaya!

HACHI HACHI Ikebukuro West Exit branch
Open
: [Weekdays] 5:00 pm - 11:00 pm
[Saturday, Sunday, National Holidays] 12:00 pm - 11:30 pm (L.O. 11:00 pm)
Closed
:
None
Average price
:
[Dinner] 2,000 JPY / [Lunch] 800 JPY
Access
:
In front of the Exit C3 of [Ikebukuro Station].
Address
:
Izumi bldg., 3-29-11 Nishiikebukuro, Toshima-ku, Tokyo 
Map
More Details
   Reservation   
Gindaco Akiba Yokocho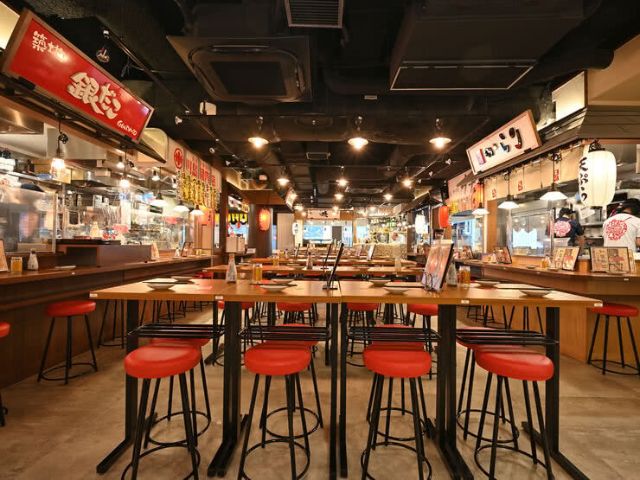 Gindaco Akiba Yokocho is a rising star in Akihabara. Their greatest strength lies with their diversified menu: radio-yaki (the predecessor of takoyaki), yakisoba, okonomiyaki (Japanese savory pancakes), kushiyaki (grilled skewered ingredients), oden – you name it, they have it!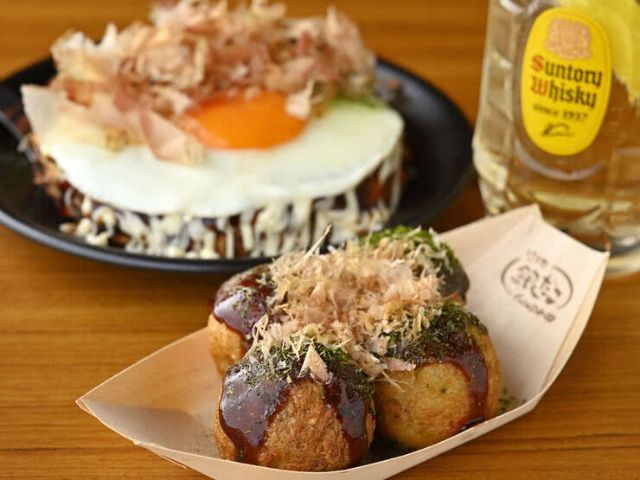 The must-eat item here would be their Takoyaki made from a secret recipe. The fried octopus balls are crispy on the outside and gooey on the inside, and they all have a chunk of chewy, delicious octopus. Pair their Takoyaki with various drinks for the full Japanese experience!

Gindaco Akiba Yokocho
Open
: [Weekdays] 4:00 pm - 11:30 pm
[Friday, Day before National Holidays] 4:00 pm - 3:00 am
[Sunday] 12:00 pm - 11:30 pm
Closed
:
None
Average price
:
[Dinner] 2,000 JPY
Access
:
1 minute walk from JR Akihabara Station - Electric Town Exit
Address
:
4F, BiTO AKIBA, 1-18-19, Sotokanda, Chiyoda-ku, Tokyo
Map
More Details
   Reservation   
All-You-Can-Eat 100 JPY Fried Chicken -ABURIYA TORIBEE- Ginza Branch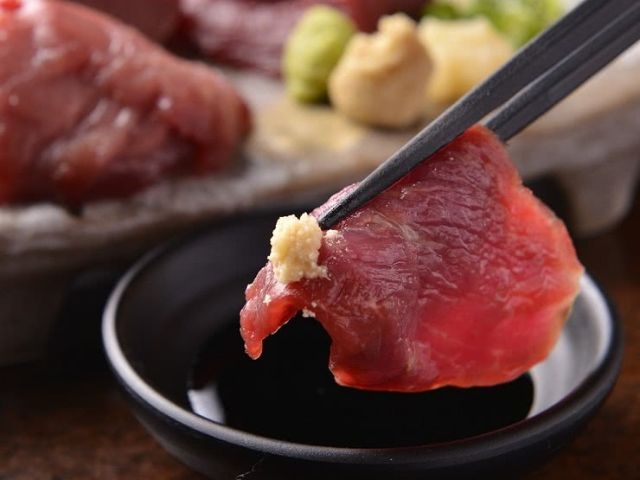 There's a place where you can eat as much karaage as you want for only 100 JPY?! That's right! ABURIYA TORIBEE Ginza Branch is an izakaya chain specializing in chicken cuisine. You'll find all kinds of dishes that go great with drinks, including horse sashimi and a cold roast beef platter, as well as chicken dishes like chicken sashimi and grilled chicken.

Of course, their most eye-catching menu item is the All-You-Can-Eat with Fried Chicken deal that costs just 100 JPY! Sourced from a renowned local brand and seasoned according to their secret original recipe, each piece of fried chicken emerges both crispy and juicy, and every bite is a pure blessing.

All-You-Can-Eat 100 JPY Fried Chicken -ABURIYA TORIBEE- Ginza branch
Open
: 5:00 pm - 12:00 am (L.O. 11:30 pm)
*Starts taking calls at 10:00 am
Closed
:
None
Average price
:
[Dinner] 2,000 JPY / [Lunch] 800 JPY
Access
:
1 minute walk from C8 exit of [Ginza Station] on Tokyo Metro Marunouchi Line
Address
:
2F, Grandia Bldg II, 3-3-14 Ginza, Chuo-ku, Tokyo
Map
More Details
   Reservation   
With this, our introduction to Japanese night markets has come to an end. Now that you have some basic knowledge on the topic, the next step is to visit one yourself. Lots of yummy foods are waiting for you!

Disclaimer: All information is accurate at time of publication.