Publish-date: Dec 27 2017 Update-date: Jul 08 2019
Like and Share us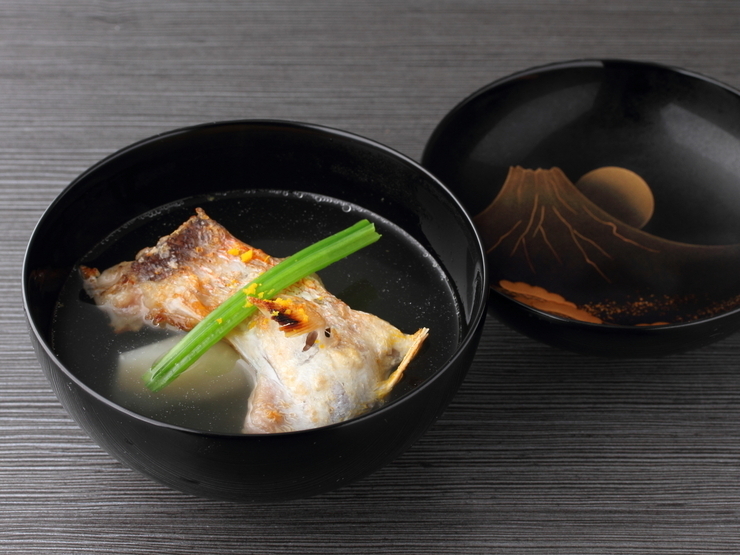 Tokyo is a city where you can taste a wide variety of delicious cuisines from around the world and the country - from traditional Japanese food to creative contemporary dishes. This article will introduce the top 15 restaurants in Tokyo as voted by top Japanese chefs.

1.Japanese Restaurant SEIZAN (Shirokane-takanawa)
Located down a quiet residential backstreet of Mita, this is a well-known restaurant that has been recognised by a world-renowned gourmet guide. The staff is exceptionally particular about both ingredients and the cooking methods used. The chef uses his expertise to slowly and meticulously make the dashi (broth), as well as to carefully select the best ingreidients, from organic vegetables to A5 grade lean beef matured for 32 months, and the freshest fish of the season. [Lunch Course] (6 dishes from 3,800 JPY) and [Dinner Course] (8-9 dishes from 10,000 JPY) let you enjoy the results made possible by this fantastic craftsmanship and the finest ingredients to your heart's content.
Japanese Restaurant SEIZAN (Shirokane-takanawa)
2.Kohaku (Iidabashi)
Located in the Kagurazaka area of Tokyo, where the atmosphere of the "good old days" is preserved even to this day, this restaurant has been recognised as a top restaurant by a world-renowned gourmet guide for 2 years in a row. The chef of this restaurant shows his amazing skills by serving up seasonal dishes containing top-quality ingredients, such as winter snow crab and tora-fugu (blowfish). Some of these dishes are conventional, but others also contain more Western ingredients, such as truffle, as well as Chinese spices—for example, sesame oil and star anise. This way the customers can enjoy a unique take on Japanese cuisine that you cannot find elsewhere.
Kohaku (Iidabashi)
3.Ginza Wakuta (Ginza)
This is a very popular Japanese restaurant offering lots of seasonal Japanese cuisine and located right in the heart of Tokyo downtown—Ginza. You can choose from the two types of seating at this restaurant: one of 5 counter seats where the customers can enjoy watching the exquisite skills of the chef, or private rooms, which allow the customers to relax and spend some quality time in their own space. The chef of this restaurant, who learnt his trade in Kyoto and Osaka, the so-called home of Japanese cuisine, creates delicious [Kaiseki cuisine] (traditional Japanese course cuisine with tea) with plenty of seasonal ingredients. Some courses include pike conger, an ingredient that is indispensable to Kyoto cuisine. Combined with autumn matsutake (mushrooms), it makes up the delicious [Pike Conger and Matsutake Hot Pot] dish. Another recommended item is [Matsutake Bunka-age]: a piping hot dish filled with ebi-imo (taro potato) and matsutake.
Ginza Wakuta (Ginza)
4.Nihonbashi Kakigaracho Sugita (Nihonbashi Ningyo-cho)
This famous sushi restaurant is so highly acclaimed that it is quite hard to make a reservation. The counter seats surround the kitchen so that the customers can enjoy watching the sushi chefs who expertly cut the "neta" (the topping for the sushi) and combine it with "shari" (vinegared rice used for sushi) before serving. While a wide variety of seasonal fish is used at this restaurant, the classic Japanese horse mackerel is both delicious and available throughout the year! The plump meat of this fish has an amazing texture to it and shouldn't be overlooked. Shad, the so-called "king" of silver-skinned fish, is another recommended species.
Nihonbashi Kakigaracho Sugita (Nihonbashi Ningyo-cho)
5.Sushi Kanesaka (Shinbashi)
Gourmets from both Japan and the rest of the world are very familiar with this sushi restaurant which has been recognised by a world-renowned gourmet guide. As soon as customers enter the restaurant, they are greeted with plain wooden counter tables and a seasonal array of flowers in stunning 400-year-old vases. This amazing atmosphere naturally enhances the expectations for top quality sushi. The only item available for dinner is the [Omakase (chef's recommendation)] (21,000 JPY) course. This course allows customers to enjoy the deliciousness of authentic Japanese sushi with toppings such as kuruma-ebi (Japanese tiger prawns), sayori (halfbeak), and shad—a fish that really puts the skills of the sushi chefs to the test. [Hiru Okimari (fixed lunch menu)] (from 5,250 JPY) is available during lunchtime.
Sushi Kanesaka (Shinbashi)
6.Sushi-dokoro Umi (Gaiemmae)
While Japan has a wide variety of options when it comes to sushi, the one fish that the Japanese love the most has to be maguro (tuna). As it is their specialty, "Sushi-dokoro Umi" is very peculiar about the maguro they use, stocking only the freshest, leanest fish available and keeping it in the best conditions possible before serving it to make customers happy. Try the different cuts of maguro expertly prepared by the highly trained chefs, from [Otoro] (fatty tuna) to [Chutoro] (medium-fatty tuna) with its balanced flavor, and [Akami] (red meat) with its refreshing taste. The more traditional sushi fillings, such as the delicious Edomae shad and conger eel, also come highly recommended.
Sushi-dokoro Umi (Gaiemmae)
7.Tempura Kondo (Ginza)
Shotaro Ikenami, a period novelist and a well-known gourmet, loved this famous tempura restaurant! He was most impressed with their peculiar take on tempura - frying not only the usual seafood, but also a wide selection of fresh seasonal vegetables. The owner takes pride in the free-thinking, unconventional style that is characteristic of their restaurant. The creamy oysters are a seasonal favorite and come highly recommended. You should absolutely try their vegetable tempura -  delicious carrot and tasty sweet potato!
Tempura Kondo (Ginza)
8.Tempura Motoyoshi (Gaiemmae)
With soft illumination and only 8 counter seats available, this compact and casual tempura restaurant feels just like a place to take a break from the busy life of the city. As the restaurant uses sesame oil very moderately, blending it with canola oil and corn oil, the original flavors of the ingredients are not suppressed. The menu consists of a course that costs from 9,500 JPY and includes the likes of freshly fried and piping hot typical Edomae-style sillago fish and freshly harvested seasonal vegetables! A sophisticated à la carte menu is also available, including rockfish tempura in a bowl of dashi and green peas, as well as other items.
Tempura Motoyoshi (Gaiemmae)
9.Mikawa Zezankyo (Monzen-nakacho)
The chef of this tempura restaurant located in the heart of the gourmet area of Tokyo has been in the trade for over 50 years! Customers can choose the seating they prefer: counter seats where they can feast their eyes on the chef expertly preparing the food, or table seats in traditional yet modern-feeling tatami rooms. The menu consists of [Omakase Course] (18,360 JPY) and [Omakase Tempura Only Course] (17,280 JPY). The tempura served includes kuruma-ebi, where both the head and body can be enjoyed, plump conger eel, and seasonal vegetables, all of which have delicate flavors that testify to the skills of the chef.
Mikawa Zezankyo (Monzen-nakacho)
10.Yakitori Imai (Gaiemmae)
Yakitori is a much-loved Japanese dish where chicken is skewered and grilled over charcoal. It is usually enjoyed with alcohol in a casual environment. "Yakitori Imai" is so popular with yakitori lovers that it is often hard to make a reservation! Delicious Matsukaze Jidori (local chicken) from the Tanba Sasayama area of Japan (Central-Eastern Hyogo Prefecture) is used at this restaurant. This chicken is well known for its great texture and umami (Japanese savory taste). Their [Oyako-don] (rice bowl dish with chicken and eggs) (600 JPY) is highly recommended. It consists solely of chicken and eggs without any unnecessary additions to ensure that the deliciousness of the basic ingredients shines through.
Yakitori Imai (Gaiemmae)
11.Torishige (Shinjuku)
Torishige is a well-known grilled offal restaurant which was established over half a century ago. Grilled offal has been a popular side dish to accompany alcohol for a very long time, and is made by putting pork offal on a skewer and grilling it. Among the items served at this restaurant, [Special Tongue] (1,000 JPY) is particularly recommended! Only the precious root portion of the tongue is used at this restaurant, thus making all tongue dishes both deliciously crunchy and succulent. Another recommended item, [Special shiro] (1,000 JPY), is made from pig rectum, which is a rare part, as only a single portion of it can be harvested per animal. [Tokusen Course] (6,000 JPY) is highly recommended for those who wish to try a wide range of dishes.
Torishige (Shinjuku)
12.Otori (Akasaka-mitsuke)
This stylish and peaceful restaurant, with both Japanese-style counter seats and tatami rooms, offers chicken cuisine that, of course, includes yakitori. All dishes consist of the freshest chicken, caught in the morning of that very day. The prime example of this is their [Tori-sashi] (sashimi of chicken) (1,200 JPY), the highly recommended signature dish of the restaurant. Firm-textured and flavorful, it will undoubtedly charm you and encourage the drinks to keep flowing! [Misuji Course] (3,500 JPY plus tax) is ideal for those who wish to order a wide variety of chicken dishes all in one go.
Otori (Akasaka-mitsuke)
13.Rain Color (Gakugei University)
"Rain Color" is a casual Italian restaurant, perfect for both large groups and those visiting alone. A rich assortment of wines is available here (it sure is hard to imagine Italian cuisine without wine!), as well as over 20 types of sake (Japanese alcohol). Customers are always pleased to discover that mild and refreshing sake actually goes surprisingly well with Italian cuisine too! A dish that is sure to go well with your wine or sake is [Roasted Daisen Chicken Stuffed with Homemade Pork Sausage] (1,780 JPY plus tax). The sauce for this dish contains 20-year-old Marsala Wine that brings out the flavor of the meat perfectly. Courses are also available at prices from 3,000 JPY.
Rain Color (Gakugei University)
14.The Oak Door (Roppongi)
This is an upscale steak house located on the 6th floor of the exclusive Grand Hyatt Tokyo Hotel in Roppongi. Their signature dish is [Kobe A5 Sirloin Steak], where top-quality cuts of Kobe beef are grilled to perfection. Another recommendation is the F1 grade beef, which is a cross-breed of Japanese beef and tender Holstein beef. A very large - 1,600 g - portion of F1 grade beef on the bone is available in the [56 oz Japanese F1 Tomahawk Steak] dish. Why not enjoy some delicious meat cuisine at the popular terrace tables that feel similar to a hanging garden?
The Oak Door (Roppongi)
15.Ogura (Ginza)
Oden is a Japanese dish which consists of a wide range of ingredients, such as seafood paste and vegetables, stewed in dashi made from bonito flakes and Kombu (kelp). "Ogura" is a famous oden restaurant which has been in business in Ginza for more than 30 years. There are about 30 different ingredients available in their slowly stewed oden at any given time, always including classics such as Japanese radish and tofu. [Oden Assortment of 4 items] is a highly recommended item. Besides oden, the menu of this restaurant is also enriched with a wide variety of Japanese cuisine such as [Seared Bonito] and [Boiled Sablefish].
Ogura (Ginza)
Did you enjoy the "Top 15 Must-Visit Dining Destinations in Tokyo as Recommended by Top Japanese Chefs"? Tokyo, a gourmet city, has many other restaurants that would gratify a professional chef. Look out for information and enjoy discovering even more outstanding restaurants.
Disclaimer: All information is accurate at time of publication.