Ebisu is a modern, urban neighborhood known for its refined style and sophisticated vibe. Conveniently located one stop from Shibuya Station on the Yamanote Line, Ebisu is just far enough from the crowds to provide a tranquil atmosphere while still being at the heart of the bustling Tokyo metropolis. With its numerous shops and trendy cafés, the area is highly popular among Tokyo residents and was, in fact, voted the number one neighborhood to live on the Yamanote Line.


This hip enclave is the place to go for great dining and boasts an extensive variety of restaurants, both Western and Japanese. For a nice evening out in Tokyo, look no further than the charmingly fashionable restaurants in Ebisu.

The Best Restaurants in Ebisu, from French Food to Izakayas
French Restaurants in Ebisu
Outside of France, Tokyo offers some of the best French restaurants in the world, and the Ebisu area is no exception.
Restaurant Aida
, located just minutes outside of the Ebisu Garden Place exit, offers high-class service and a chic atmosphere, combined with a relaxed but tasteful dress code for a comfortable evening out. Enjoy French classics made with local ingredients, such as "Pork Rillettes and Taro Terrine" accented with wasabi horseradish greens and "Katsube Black Wagyu Grilled in Perigueux Sauce" featuring Japanese beef from Shimane prefecture.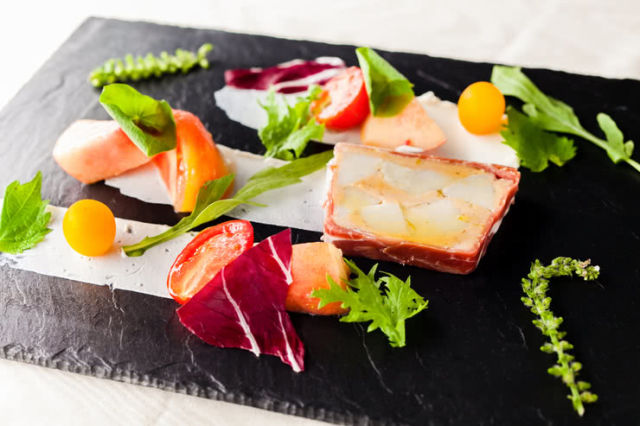 Bistro Ebisu
, a short stroll out the west exit towards Shibuya, offers elegant French cuisine made with seasonal vegetables. Don't miss their "Marinated Horse Mackerel and Beet", a gorgeous presentation of fresh fish, sweetened beets, and tart raspberry vinegar, and the foie gras saute at Bistro Ebisu is pure luxury, featuring mushrooms imported from France.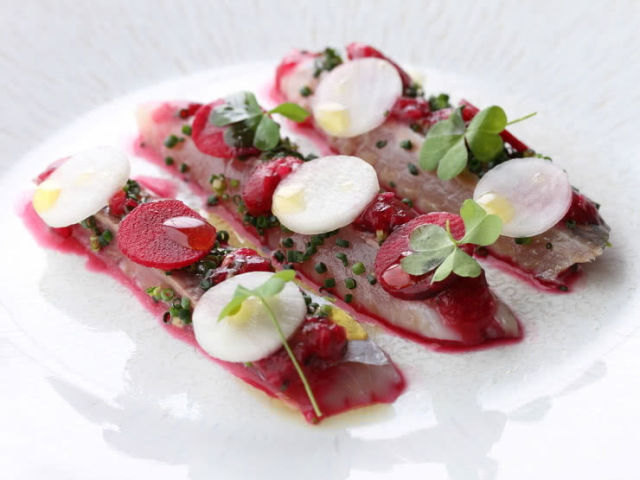 Teppanyaki Restaurants in Ebisu
While Tokyo is home to some excellent Western restaurants, Japanese cuisine is not to be outdone. Teppanyaki, prepared tableside by a personal chef, combines modern dinner entertainment with high quality ingredients.
Teppan Diner JAKEN in Ebisu offers top-quality A5 beef cooked to perfection. Enjoy a grilled premium fillet of Japanese black beef, cooked tataki style (lightly seared on the outside and rare in the center), then thinly sliced and dressed with a citrusy ponzu soy sauce.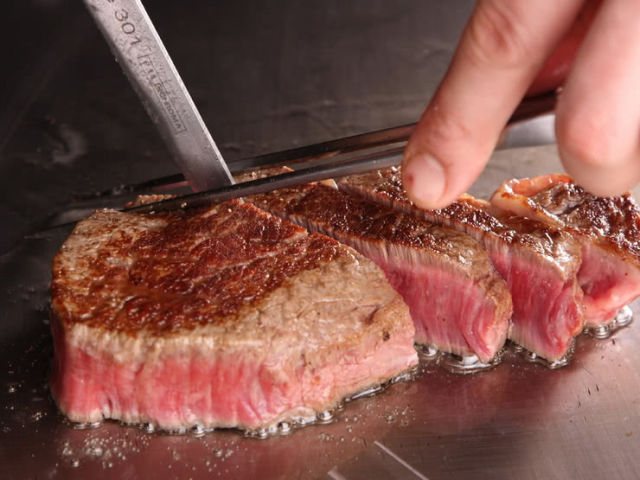 At
, located a short walk from Ebisu Station, the recessed lighting and walls painted in a classical Japanese style bring a charming touch to an intimate dinner setting. Don't miss the chateaubriand steak made with A5-grade Japanese black beef or the sauteed foie gras, served with Shin's house-made
saikyo
miso sauce.
Italian Restaurants in Ebisu
After Japanese, Italian is probably the next most widely eaten cuisine in Japan.
Enjoy food fresh from the kitchen at DELIZIOSO ITALIA, a wine bar and Italian restaurant outside of Ebisu's east exit. Their "Lobster and Blue Crab in a Rich Tomato Sauce" served over thick linguine pasta is not to be missed. Take in the relaxing atmosphere while leisurely sipping on a glass of wine.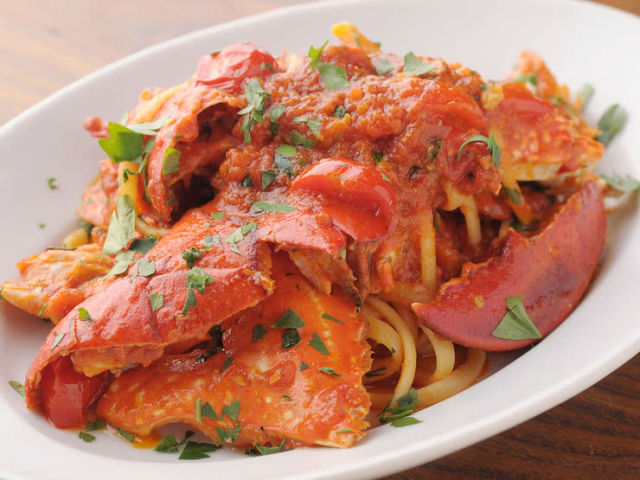 Italian bistecca TENOHA & STYLE RESTAURANT
 offers fresh handmade pasta, premium Japanese black beef from Shizuoka prefecture, and raw ingredients sourced directly from local producers. The open kitchen creates a cozy and welcoming vibe.
Spanish Restaurants in Ebisu
Spanish cuisine has been growing in popularity in Japan, and Ebisu offers a number of restaurants to enjoy excellent Spanish food.
Be sure to check out
Arroceira Sal y Amor
, featuring specialty dishes from Spain's Murcia region. Their "
Arroz Caldero
" features rice cooked in a traditional iron pot with shrimp. The flavor of authentic Spanish spices permeate every bite!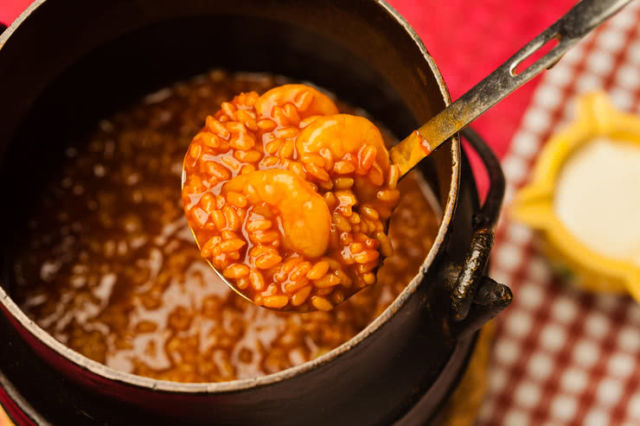 Q Ebisu
offers Spanish food using fresh local ingredients, such as their "Steamed White Clams & White Wine" made with clams from Chiba prefecture, and "Kamakura Vegetable
Bagna Cauda
" made with garden fresh local produce. Their bacon is also house-made, allowing Q Ebisu to precisely control the quality and freshness.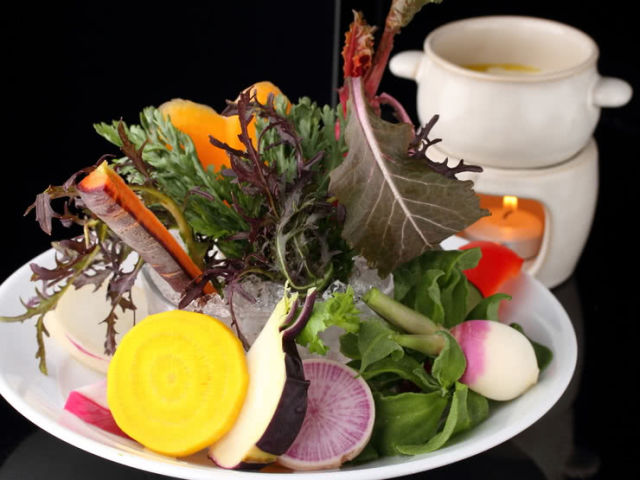 Kaiseki Restaurants in Ebisu
Japan's traditional haute cuisine, kaiseki dining, is a tasting course that treats multiple senses with its superior ingredients and simply but elegant presentation.
TAKEMOTO
offers a unique way to enjoy kaiseki dining with counter seating and dishes served directly by the chef rather than a server. While less formal than typical kaiseki restaurants, the food at TAKEMOTO is no less superb. Be sure to try their impressive oysters from Iwate prefecture, which have a richly concentrated flavor, as well as the freshly steamed rice topped with sumptuous
uni
(sea urchin).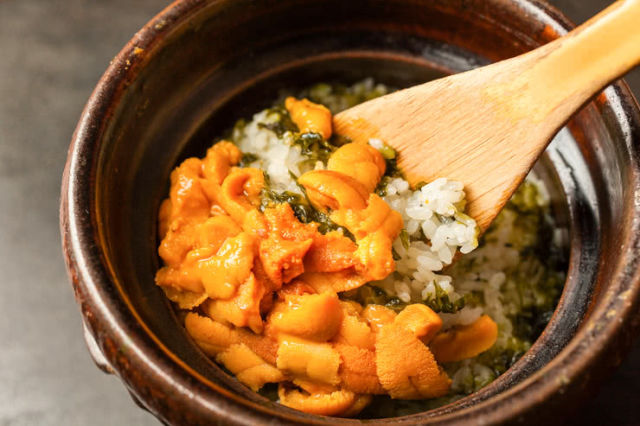 Yakitori Restaurants in Ebisu
Yakitori is a popular skewered food from Japan, featuring bite-sized pieces of chicken grilled over an open flame. It's easy to eat, goes excellently with a cold beer, and can be enjoyed anywhere from Japanese pubs to yakitori specialty restaurants, both of which are readily found in Ebisu.
The name may be a lot to remember, but
Kenko Bishoku Hakata Mizutaki to Sumibi Yakitori Bijindori
offers superior chicken, with fresh meat daily. Don't miss their "Charcoal Spit-Roasted Skewers" that stand out due to their simple flavor and high quality chicken. The meat is roasted over high-grade oak charcoal and tastes fantastic seasoned with Aguni sea salt.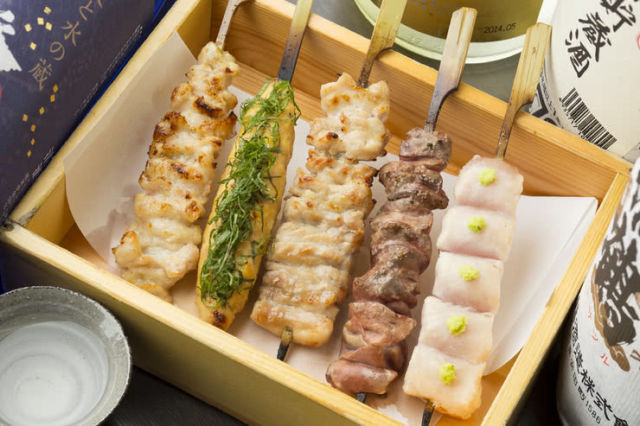 Sushi Restaurants in Ebisu
Tokyo is one of the best places in the world for sushi, and there are plenty of excellent sushi restaurants to check out in Ebisu.
Enjoy tuna fresh from Tsukiji fish market, at
Sushiya Ono
, where the food is served in an intimate restaurant space. Don't miss the Ono Special sushi roll made with broiled fatty tuna and spring onions.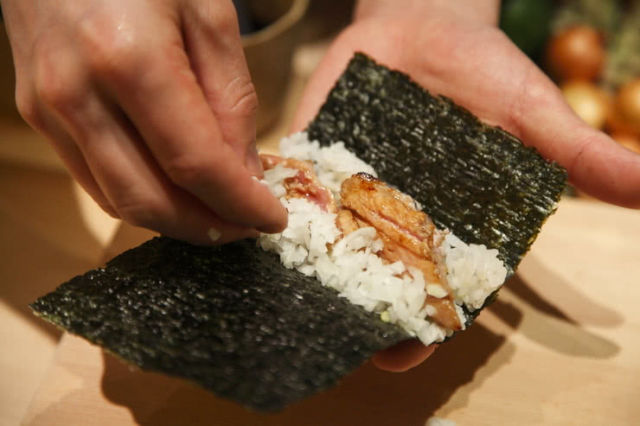 At
Joetsu Yasuda, the focus is on food from Niigata prefecture in the Joetsu region. They receive an assortment of local fish shipped daily direct from Niigata and offer a variety of Niigata sake (rice wine), which pairs excellently with their sushi.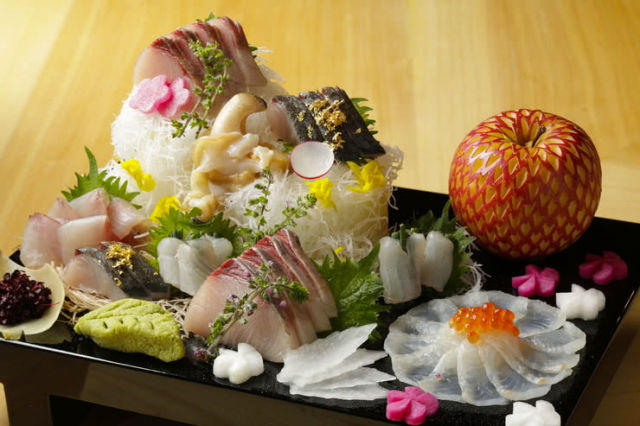 Izakaya Restaurants in Ebisu
Izakaya are the Japanese equivalent of a pub, with plenty of beer and liquor and delicious food that goes well with it.
Ebisu is host to a number of excellent izakaya, such as
Ebisu Uokin
, located just a minute's walk from the east exit. An izakaya with several locations across the city, Uokin specializes in fresh, seasonal seafood procured fresh from Tsukiji fish market. The Ebisu location in particular is known for its stylish atmosphere, making it the perfect location to enjoy a classy but casual drink after work or with friends.
For a truly unique atmosphere, be sure to visit the Okinawan izakaya
Haibana Ebisu outside of Ebisu station's west exit. Their extensive collection of Okinawan
awamori
liquor is not to be missed, and they serve a number of authentic regional dishes hard to find anywhere else in Tokyo.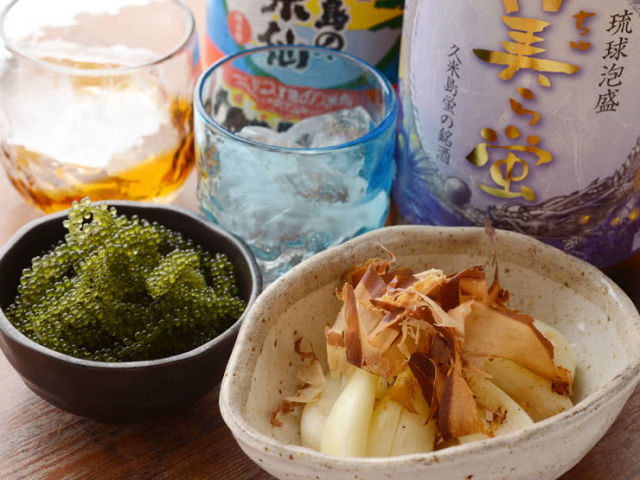 Okonomiyaki Restaurants in Ebisu
Okonomiyaki
is a type of savory pancake made with various ingredients cooked on an open grill. The dish originated from the Kansai region of Japan, but it's also popular in Tokyo. At
Ebessan Ebisu
, the chef—an Osaka native—cooks up real Kansai okonomiyaki in a cozy environment, and on occasion even prepares fresh fish that he caught himself in Tokyo Bay.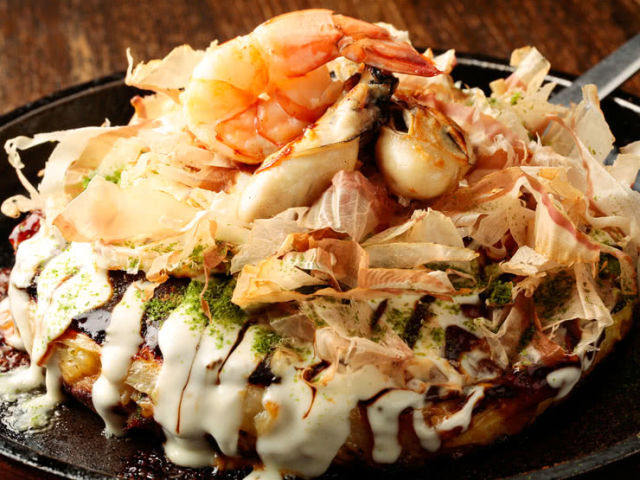 Other Western Cuisines
Enjoy simple food made with quality ingredients in a comfortable, relaxing environment at Daikanyama Pancake Cafe Clover's. Their omelets are delicious and fluffy, while the pancakes have just the right taste and texture and are irresistibly appetizing topped with fresh strawberry, ice cream, and whipped cream.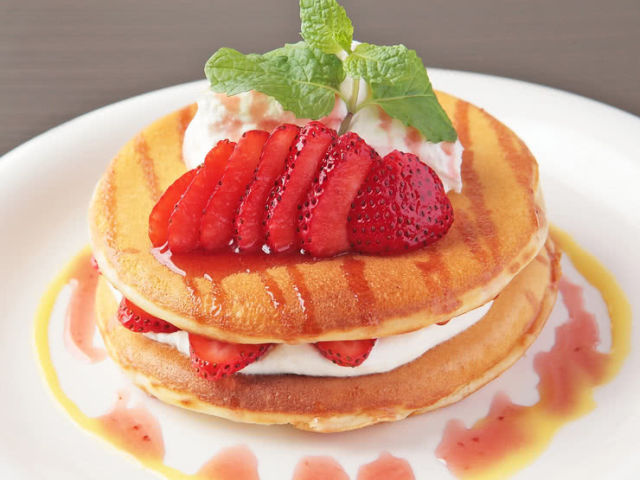 At
EBISU GRILL Tefu Tefu
, fill up on fresh vegetables with their extensive salad bar spread and enjoy tile-grilled Iwachu pork and roast chicken. Located only a minute's walk from Ebisu Station, it's a convenient place to stop by after a day of work or a bit of shopping.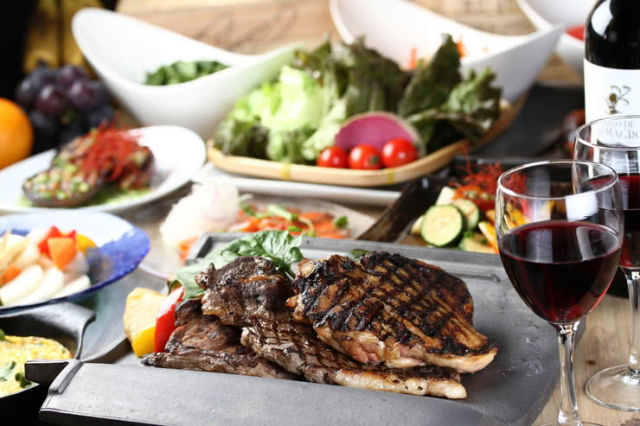 Ebisu Restaurants Serve up A Huge Range of Some of Tokyo's Best Food
Charmingly fashionable and highly popular with the locals, Ebisu is the perfect location to enjoy a meal in Tokyo. Browse
Savor Japan's full list of restaurants in Ebisu
. Visit Savor Japan for the very best guide to the excellent food that this trendy neighborhood has to offer.
Disclaimer: All information is accurate at time of publication.
Publish-date: Aug 09 2017 Update-date: Aug 06 2019