The Roppongi district is known as Tokyo's upscale center of entertainment, complete with high-end hotels, chic bars, and a fantastic nightlife. Bordered by two large commercial hubs, Roppongi Hills at one end and Roppongi Midtown at the other, this peerless shopping destination offers the allure of numerous luxury brands, while the sheer variety of museums, galleries, and art installations in the area create a bustling art scene. Due to its close proximity to a number of foreign embassies, Roppongi draws a diverse crowd of esteemed overseas visitors, so it's no surprise then that the area is home to one of the best dining scenes in Tokyo and throughout Japan. For visitors looking to enjoy the finest in Japanese cuisine, here are 7 Roppongi sushi restaurants that not only provide the best sushi in Roppongi but also furnish the ultimate seafood dining experience.
7 Roppongi Sushi Restaurants for the Discerning Seafood Connoisseur
La BOMBANCE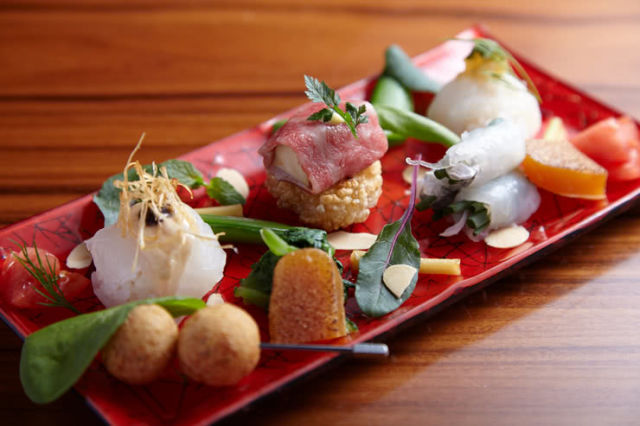 Experience the height of culinary fusion at the Michelin-starred restaurant La BOMBANCE, where Japanese culinary techniques are expertly applied to luxury foreign ingredients and served in a refined, modern atmosphere. Their innovative menu showcases the new frontier of Japanese cuisine, with dishes like
yamacha
mountain tea combined with European truffles and rich foie gras imported from France and Hungary. The excellent sushi menu, featuring dishes such as beef-wrapped monkfish liver on a grilled rice ball, will intrigue the eye and please the taste buds in equal measure.
Dinner:
14,000 JPY
Read More
Sushi Hattori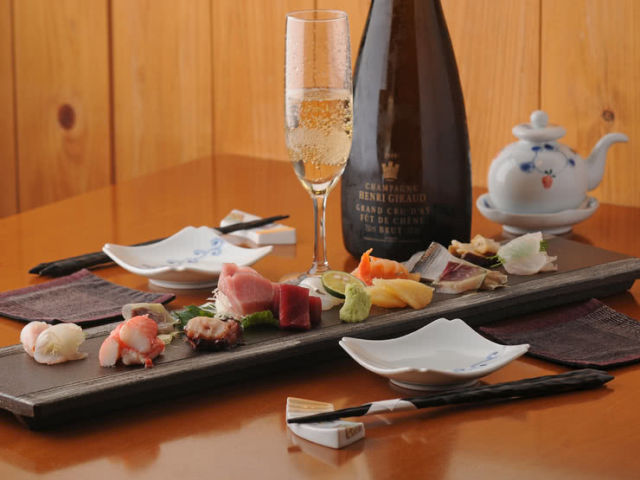 The Edo-style sushi of traditional Tokyo comes to delectable life at Sushi Hattori. Emphasizing only the freshest ingredients, this Roppongi sushi restaurant sources their fish from various locations according to the season, from Hokkaido and Aomori in northern Japan in the winter to coastal Wakayama prefecture in the spring. This peerless attention to seasonal detail ensures that the tuna at Hattori is always the finest—not to mention the most delicious variety—available. Their luxurious spit-roasted
engawa
(halibut), served only in limited quantities each day, is a rare indulgence not to be missed.
Dinner:
12,000 JPY /
Lunch:
1,300 JPY
Onzoshi Kiyoyasutei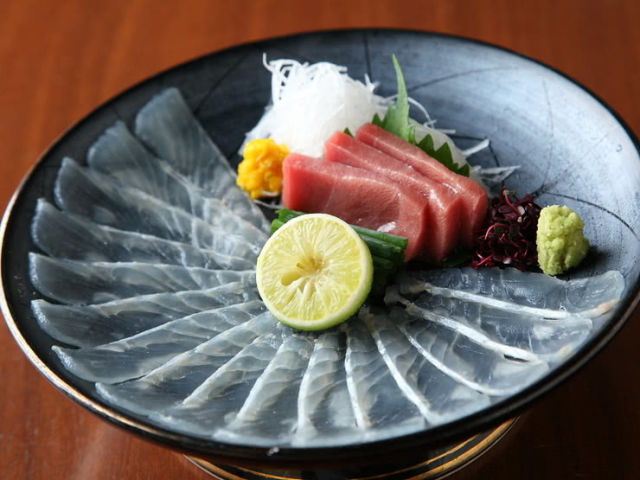 Dine like an aristocrat at Onzoshi Kiyoyasutei, where the dedicated staff works tirelessly to provide the finest meal with an atmosphere to match. A bevy of the highest quality ingredients, including domestic black abalone, snow crab, and Ise spiny lobster, imbue the traditional Japanese cuisine on offer with an unmistakable air of luxury. The variety of gorgeously plated sushi at Onzoshi Kiyoyasutei is equaled by impeccable service and elegant private dining rooms perfect for groups large and small, elements that together bring many repeat visitors.
Dinner:
11,000 JPY /
Lunch:
1,200 JPY
Read More
Gochiso Ryoma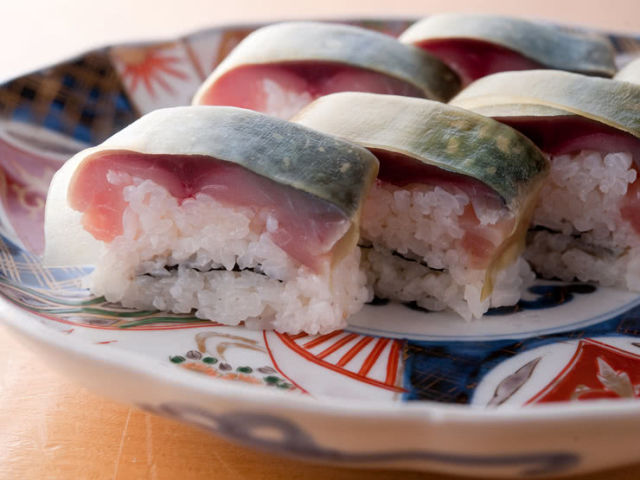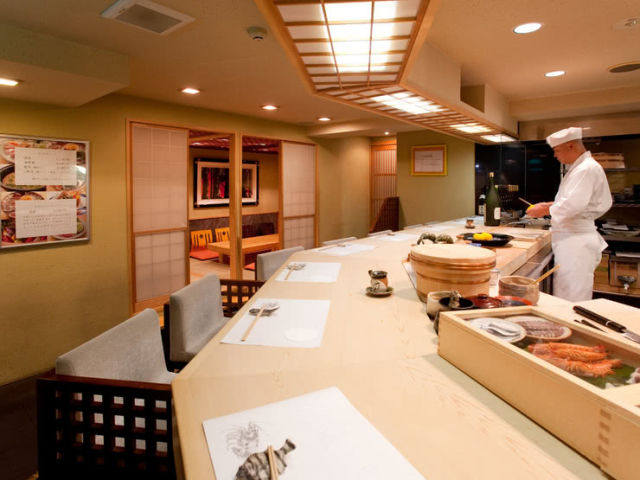 At Gochiso Ryoma, revel in the bounty of the sea from off the coast of Shimane prefecture. A stunning variety of 40 to 50 different kinds of fish, from rare deep-sea fish such as the porous-head eelpout to various local varieties, are served at this establishment each year. Some of these have actually been caught by the chef himself, a self-proclaimed fishing enthusiast. Their expansive menu means that patrons can try a number of unique sushi items available only at Gochiso Ryoma.
Dinner:
Varies /
Lunch:
1,000 JPY
Nishiazabu Kappo Takumi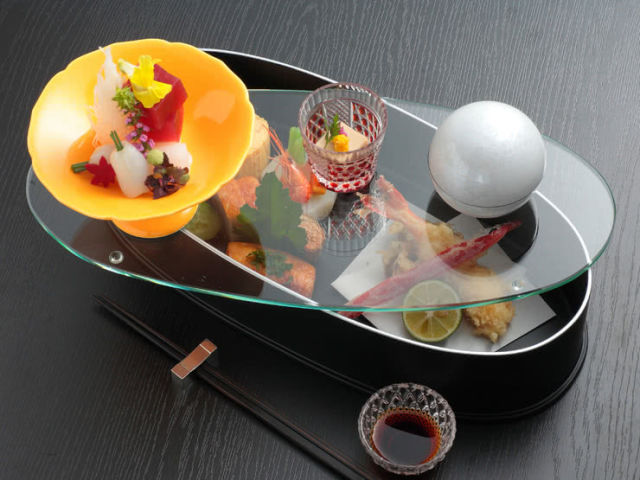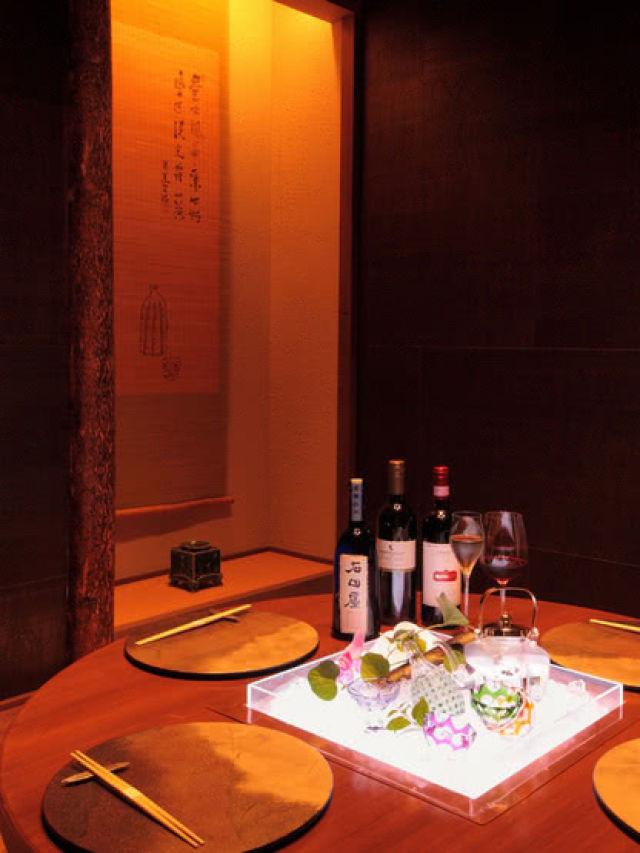 For a wholly unique sushi experience, pay a visit to Nishiazabu Kappo Takumi, a Roppongi sushi restaurant specializing in
temari
(ball-shaped) sushi. Painstakingly created with an abundance of seasonal flourishes, every plate is a work of art featuring ingredients such as spring celery and yellow
shimaninjin
carrots, each adding a vivid splash of color to freshly caught squid, salmon, scallops, baby shrimp, conger eel, and
maguro
tuna. Dine at the counter and enjoy a friendly chat with the head chef, or savor an intimate meal in one of their private dining rooms.
Dinner:
14,000 JPY /
Lunch:
2,000 JPY
Read More
Sushisho Masa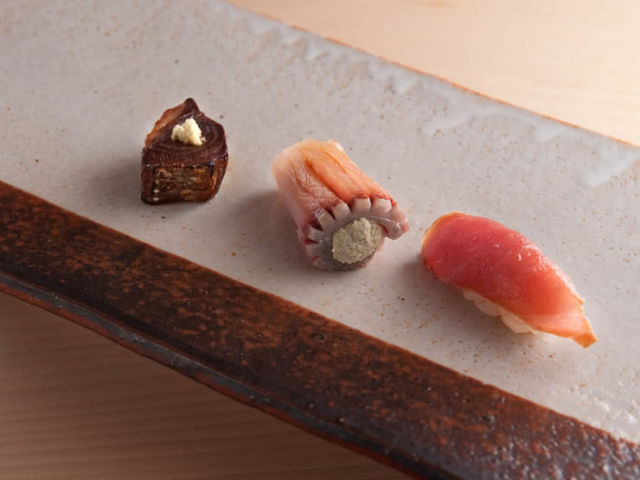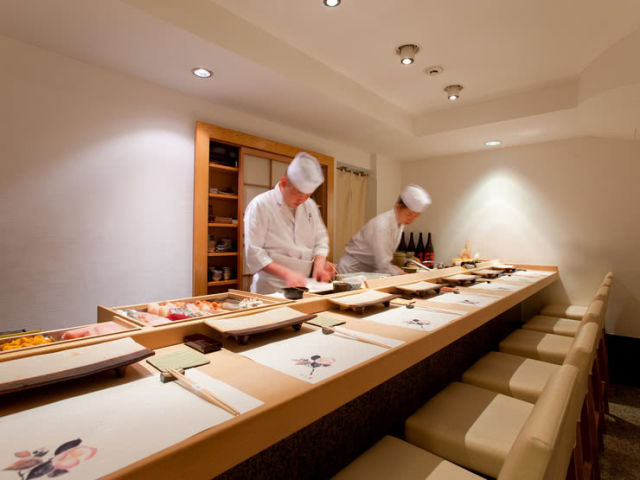 The focus at this Roppongi sushi restaurant is on uncomplicated dishes that make the most of each and every ingredient. In the hands of the master chef, classic sushi staples are reinvented with extraordinary technique, thus introducing patrons to a range of new and unforgettable epicurean delights. The most coveted of these is the conger eel served three ways: With salt and sauce, grilled unseasoned, and as liver; in other words, the perfect triumvirate of lean, medium-fatty, and fatty tuna. The world-class sushi at Sushisho Masa demonstrates why Japan is not only the inventor but also the master of sushi.
Dinner:
23,000 JPY
Zoroku Yuzan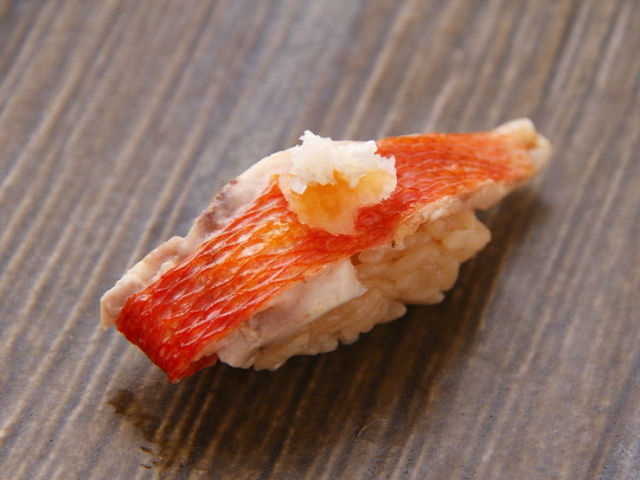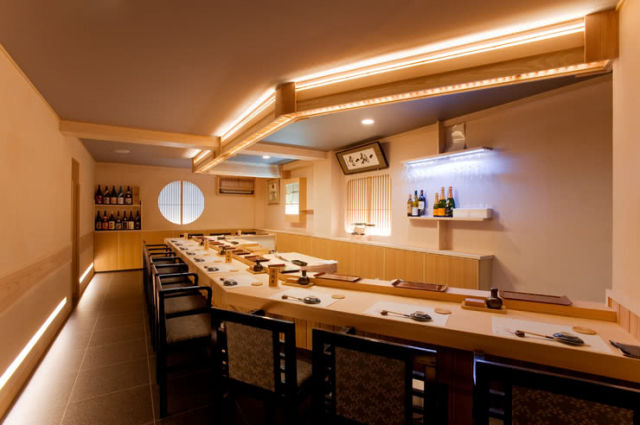 Savor the finest sea urchin in the immaculate atmosphere of Zoroku Yuzan, where their refreshing
murasaki
uni and
bafun
uni varieties are culled fresh from Hokkaido. The splendid flavor of their top-of-the-line sea urchin is duly complemented by the secret to extraordinary sushi that goes even beyond the seafood quality itself: A delicious bed of rice.  Using a house blend of the finest
koshi hikari
and
koshi ibuki
rice grains, each carefully paired with six different sushi vinegars, Zoroku Yuzan has created three distinct flavors of sushi rice that perfectly match their toppings. Much like fine wine, each should be tried—and appreciated—in turn.
Dinner:
15,000 JPY
The Best Sushi in Roppongi Begins with Savor Japan
Tokyo's Roppongi district is teeming with myriad entertainment as well as culinary possibilities.With its many charms, topped perhaps by world-class dining of all varieties and for all tastes, it can be difficult to decide on a restaurant that suits the needs of the moment. Especially for sushi aficionados, this is made perhaps even more difficult by the fact that Roppongi is by no means the only place to dine on great sushi in Tokyo; the Ginza district is another bastion of serious sushi that is well worth visiting during any trip throughout Tokyo's upscale culinary environs.   No matter where one chooses to travel, there is one resource that can always be counted on to provide the best and most-detailed information on fine dining in Roppongi, throughout Tokyo and beyond: Savor Japan—come for the news and reviews, and stay for the food.
Disclaimer: All information is accurate at time of publication.
Publish-date: Aug 09 2017 Update-date: Aug 06 2019