Publish-date: Nov 28 2018 Update-date: Jun 10 2019
Like and Share us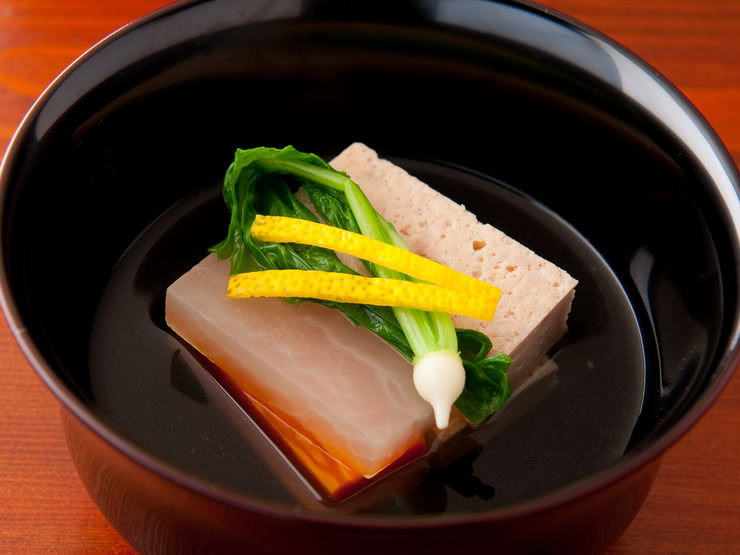 In Japan, there are designated areas where geisha (also called "geigi," traditional female entertainers) used to gather called "hanamachi." Kagurazaka, one of the most popular hanamachi among the Japanese, is only a few steps away from Shinjuku, yet still maintains the atmosphere of the past with its stone-paved roads and narrow alleys. As you may expect, it also hosts a fair number of fashionable eateries where you can drop by to taste Japanese cuisine. Have a look at this roundup of the best 15!
1. Asanoya Kagurazaka branch (Kaiseki)
Here, you'll be able to pair carefully-selected horse meat with local sake. Choose where to sit depending on your mood or the occasion: the 1st floor hosts a bar-like area with jazz music playing in the background, while the 2nd floor is a Japanese-style space with a quiet and classy atmosphere. The horse meat they use, commonly called "sakura meat," is A5-ranked horse meat directly delivered from Kumamoto. Have it as [Shabu-shabu] (sliced meat parboiled with vegetables) along with a large variety of seasonal ingredients. They also take pride in delicious soba (buckwheat noodles), made from high-quality buckwheat flour produced in Hokkaido. Pair their dishes together with their diverse jizake (local drink) menu, which includes sake (a type of Japanese alcohol).
Asanoya Kagurazaka branch
2. Agezuki (Japanese Cuisine)
The owner of this tonkatsu (fried pork cutlet) restaurant is constantly working to create the "ultimate tonkatsu". He uses meat from a rare breed of pig known as "Minami no Shima", produced in Miyazaki Prefecture in such small quantities that it's only sold to a few selected high-end restaurants. The owner applies all of his cooking techniques to create the food, from taking into consideration the shrinkage of the meat when cutting its sinewy parts, to the skillful use of different cooking temperatures (low/high temperatures, as well as the remaining heat of the pan). The result is sublime tonkatsu you won't be able to taste anywhere else in the world. Also, don't miss the [Premium Tenderloin Cutlet], made from a top-class cut of pork, or the [Premium Loin Cutlet], a lean cut filled with incredible umami (Japanese savory taste).
Agezuki
3. Fushikino (Japanese Cuisine)
Gourmands are enchanted by this place that got a star just a year after its opening in 2011. The only menu option is a course meal, consisting of kaiseki (traditional Japanese course meal) cuisine prepared by a chef who trained at a well-established restaurant in Kyoto, which is beautifully paired with sake carefully selected by the owner from various breweries around the country. The sake is served at the most suitable temperature and in the best drinking style. What's more, the utensils used to serve the sake range from old artworks to crafts made by living national treasures, which you may even purchase (not all are for sale)! The modern interior, constructed within a home originally designed to look like a tea house with walls made of wood and earth, is also a thing of wonder.
Fushikino
4. Kyorakutei Mogami (Udon, Soba)
This soba restaurant is the only sub-branch of the starred and famed restaurant Kyorakutei. Located a little far away from the hustle and bustle of Kagurazaka, it has a formal and solemn atmosphere. For their soba, they use whole buckwheat seeds produced in Aizu and thoroughly grind them by hand every day with a millstone. Using the techniques mastered at Kyorakutei, they obtain an almost transparent, coarsely ground flour that gives the noodles a fine and smooth texture and brings out the original sweetness of the buckwheat. There are also plenty of other a-la-carte dishes, such as horse sashimi, Aizu products like wild vegetables, and delicious tempura of shrimps killed and prepared on site.
Kyorakutei Mogami
5. Hashimoto (Japanese Cuisine)
This well-established restaurant specializing in unagi (conger eel) that was founded almost 180 years ago right by Ishikiri Bridge, which crosses over Kanda River. When selecting the unagi, the top priority of the 6th generation owner is not the production area, but how well it goes with the restaurant's secret sauce. For this reason, a large kind of unagi you usually don't find in other restaurants is used here. The fluffy texture of the eel matches divinely with the spicy sauce in the [Unaju Deluxe]. Alternatively, there are many other unagi-based dishes you may like, such as the [Umaki], wherein broiled, firm unagi is wrapped in a thick omelet and the [Kimoyaki] that has a fragrant aroma and unique bitterness that's sure to become addicting.
Hashimoto
6. Kagurazakamaeda (Japanese Cuisine)
Inside a detached house sitting on a side street of the evocative Kagurazaka, there's a restaurant with a fancy Japanese design. The traditional Japanese design - such as the lovely garden decorated with stone lanterns and colorful maple trees, the paper screens that slide open from the bottom to reveal windows from which you can admire the garden, and the small flowers scattered here and there on the walls - charm the many diners that come to this restaurant. Here, you can enjoy sophisticated and gorgeous Kaga kaiseki, incorporating plenty of namafu (wheat starch). You can pair their many delicacies made of pleasantly chewy namafu from Kaga with over 300 different types of wine and champagne.
Kagurazakamaeda
7. Kagurazakayukimoto (Japanese Cuisine)
Founded in 1948, this long-established restaurant with soft and warm lighting can be accessed from one of the stone-paved side streets of Kagurazaka. It's so quiet that you can actually hear the wind blow outside, so from time to time, you'll be able to listen to the music from a shamisen in the far distance. While you do, enjoy their spectacular kaiseki cuisine made with 3 types of ingredients: the first of the season (hashiri), those at their peak (shun), and the last ones before they're no longer available (nagori). The course starts with a seasonal [Japanese Soup] that will please both the taste buds and nostrils with its full-bodied aroma of dashi (broth), and goes on with a series of dishes created by the head chef that make use of various in-season ingredients. Another appealing point of this place is that sometimes they call groups of geisha to perform in a tatami room. Don't miss this opportunity to have a full hanamachi experience!
Kagurazakayukimoto
8. Kagurazakamutsumi (Japanese Cuisine)
This unique restaurant gained popularity for the mismatch in its stylish cafe-like appearance and the food it serves, which is authentic Japanese cuisine arranged in an original way. Fresh sashimi of fish directly delivered from Choshi Port and fluffy [Simmered Kinmedai] with a super tasty broth are just a few examples of the delicious dishes the chef prepares to "let everyone enjoy Japanese cuisine in a casual way." The arrangement of the food and what it is served in is tailored to every diner. The hospitality of the owner makes it truly a lovely restaurant to visit.
Kagurazakamutsumi
9. Kagurazakayamasemi (Japanese Cuisine)
While strolling around Kagurazaka, your attention will eventually be drawn to a building with a wood and glass lattice door that has a curtain hanging on top. Step inside and you'll find yourself in this restaurant, which has a high ceiling that contributes to the open atmosphere, and is popular for its delicious soba hand-pulled by a passionate artisan. Made from stone-milled domestic buckwheat flour, the superb soba have an amazing aroma and chewy texture. They go down incredibly smoothly with their carefully-crafted dashi! You will find a great Japanese menu that also includes duck dishes, seafood from the Miura Peninsula, tempura, obanzai (traditional Kyoto home cooked dishes), and more.
Kagurazakayamasemi
10. Yakitoriaoi (Japanese Cuisine)
This place feels like a hideaway where the chef-sommelier serves delicious yakitori paired with select wines. The type of chicken used varies according to the meat cuts used for the yakitori. The [Yakitori] (grilled chicken skewers) comes highly recommended, and is made with Daisen chicken that remains tender even when grilled. Made from a base of sweet soy sauce and without using any sugar, the dipping sauce has an incredible fragrance that will immediately spread in your mouth. For the [Liver], they use Hinai chicken instead. Odorless and super flavorful, this popular dish will amaze you even if you're not a big fan of liver. There are also many chicken a-la-carte dishes, which can be accompanied with their many wines imported from around the world.
Yakitoriaoi
11. Kagurazakabetteitorijaya (Kaiseki)
This charming Japanese restaurant was built in the style of a traditional Japanese tea house as if to evoke the red-light district culture that remains in Kagurazaka. Here, you can relish Kansai cuisine and udon-based kaiseki courses. The popular [Udon Suki] is a spectacular hot pot stew made with specially-made udon and 17 other ingredients boiled together in clear dashi made from kombu, dried tuna flakes, and wheat-based soy sauce. They also care about the quality of their chicken, procuring them from different production areas depending on the dish, such as with oyako-don (eggs and chicken on rice) and yakitori. As for alcohol, they have [Tosatsuru], a reputed brand from Kochi that goes great with their food.
Kagurazakabetteitorijaya
12. Kagurazakaseki (Japanese Cuisine)
Walk 70 steps on the stone-paved road of a quiet residential area, and you'll bump into the curtain hanging outside this restaurant. Inside its elegant Japanese-style interiors, this restaurant serves a wide variety of Japanese dishes prepared according to the traditional recipes passed down by the previous generations. For example, the [Pork Kakuni] consists of delicious pork that's so tender you can cut it with a chopstick, and that has completely absorbed the dashi and soy sauce flavoring. Ideal if you mainly want to enjoy sake, the [Issun Kaiseki] contains an array of seasonal appetizers and fresh sashimi. Relax into the refined atmosphere of Kagurazaka while leaning an ear towards the traditional music in the background.
Kagurazakaseki
13. Kagurazakatosenkyo (Kaiseki)
At this restaurant that's housed in a detached building and feels like a fully-fledged getaway from the daily grind, you can enjoy reasonably-priced drinks and seasonal cuisine. What makes it unique is that it has a liquor trading license, so its sake and shochu are directly delivered from breweries and sold almost at wholesale price! Inside, there's a special alcohol cellar where lots of selected brands are lined up one after another, showing off the restaurant's forte. As for the food ingredients, they only use wild-caught seafood, vegetables acquired from contracted farmers, and domestic meats. All their dishes that incorporate the flow of the seasons are popular, especially the course meals and nabe (hot pot) dishes.
Kagurazakatosenkyo
14. Sansai (Japanese Cuisine)
This long-established restaurant, which has been operating in Tokyo for around half a century and specializes in Yamagata cuisine made with wild vegetables, moved to Kagurazaka in 2011. Carrying on the same motto of his predecessor, which was "to bring out and enhance local flavors," the current chef uses seasonal products directly delivered from the mountains of Yamagata and unusual local ingredients to create simple dishes with a somewhat nostalgic flavor. The signature dish is the healthy [Imo-ni], wherein ingredients like taro and green onion are stewed together in a tasty soy sauce-based beef stock. Another unmissable Yamagata specialty is the [Tama Konjac], uniformly soaked in a homemade soy-based sauce.
Sansai
15. Kisaiyahide (Japanese Cuisine)
The owner of this restaurant, who was born in Uwajima in Aichi Prefecture, makes delicious Japanese cuisine using products from his hometown. Making use of the connections he made while working at a ryotei (traditional high-class restaurant) in his hometown, he sources his wild-caught seafood, citrus fruits, and other products directly from Uwajima every day. The specialty is the [Uwajima Tai Meshi], made with wild-caught sea bream and "Mimanmai," a brand of rice grown by a trusted farmer in his hometown. It's the perfect dish to finish off your meal! Another recommended menu item is the [Himekko Chicken Breast Warayaki Tataki] that will allow you to savor the lovely texture and umami of Uwajima chicken thoroughly. If you want a taste of Uwajima in a side alley of Kagurazaka, this is the place for you!
Kisaiyahide
These are some of the chic restaurants you can find in the lovely entertainment district of Kagurazaka. Stroll through the old townscape and enter the world of Japanese cuisine, which can sometimes be simple and other times be extravagant!
Disclaimer: All information is accurate at time of publication.