Publish-date: Dec 21 2017 Update-date: Aug 06 2019
Like and Share us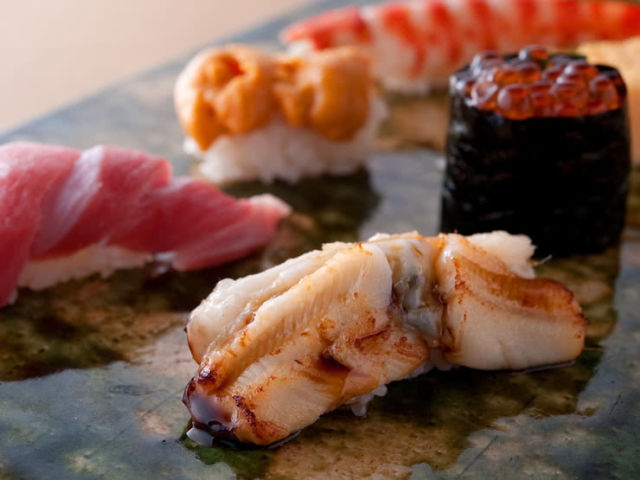 "hitosara" is a famous gourmet website that shares information about the best restaurants in Japan. This article offers you a roundup of the best sushi spots in Tokyo - from historical and renowned places, to restaurants in the Tsukiji area, which is known as the kitchen of Japan. Take a look and find the best restaurant for you!
1. Sushi Yoshino
This super small restaurant is made in the "kojinmari" style, with a single beautiful counter and a single table. In this cozy atmosphere, you can have authentic Edo-style sushi courses. Something you absolutely have to try is their [Otoro], which is the fattiest part of a maguro (tuna). It is so tender that it melts in your mouth! Another dish you can't miss is their [Shime-kohada], which consists of sashimi (sliced raw fish) that has been carefully soaked in vinegar. This amazing delicacy will allow you to experience the real deliciousness of vinegared rice. Treat yourself with this great sushi made by a skillful artisan!
Sushi Yoshino
2. Sushi Kappo Fukuhara Hamacho Branch
This restaurant is located in a quiet area that's only 1 minute away by foot from a subway station. Designed in a modern Japanese style, the restaurant is the ideal place to relax at. They use akazu (red vinegar) to season their shari (vinegar rice), so it has a light red color. You can enjoy this rice with uni (sea urchin), ikura (salmon roe), stewed eel, and fatty maguro, as well as other nigiri (vinegar rice topped with fish) with high-quality ingredients, by ordering their popular [Sushi Sakura]. They also have other interesting a la carte options that you can try with sake (Japanese alcohol), such as [Kani Salad] - made with snow crab boiled with fresh vegetables, and [Tempura Moriawase], which consists of seasonal vegetables and seafood.
Sushi Kappo Fukuhara Hamacho Branch
Meticulous about Edo-style sushi, the chef of this restaurant lives by the principle of "maintaining old traditions while adding some innovation as well". The same rigor is applied to the ingredients: from fresh seafood caught in the morning that are carefully selected by the owner at Tsukiji Market, to premium products directly delivered from various fishing ports. A recommended course would be the popular and rich [Hibiki] dish. It is possible to order a serving and a half for 2 customers. For lunch, you may want to try the rich [Nigiri Sushi] or [Bara Chirashi], which is made by mixing thinly sliced ingredients with vinegared rice.
Kamata Sushitoku
4. Ryuma
Despite being located in Roppongi, Tokyo's foremost business area, this restaurant is quiet and elegant. Counter seats let you enjoy the sight of the chef preparing sushi right in front of your eyes. This experienced artisan will serve you a perfectly timed and diligently prepared [Omakase Sushi], which is a course consisting of the chef's recommended delicacies. Alternatively, you can take a seat at a table or in one of the private rooms to enjoy [Fukkura Takiage Tai Meshi Course], which has a simple yet deep taste, or the [Nabe Course] - a nabe (hot pot) or shabu-shabu (sliced meat parboiled with vegetables) course with seasonal fish.
Ryuma
5. Sushi Aoi Nishi Azabu
At this restaurant, you can have authentic Edo-style sushi made by a chef who polished their techniques for 15 years at a historical sushi restaurant in Ginza. The most recommended option is their seasonal [Omakase Nigiri Course]. It consists of 26 delicacies, including sashimi and over 13 nigiri. "I want customers to eat a lot of the elaborate dishes I carefully make with seasonal products", said the chef when explaining the concept of this course. This is how you get to enjoy "a little bit of everything". If you're looking for some privacy for your date or business dinner, you can use the counter booths that have doors to ensure privacy.
Sushi Aoi Nishi Azabu
6. Ginza Sushi Dokoro Shin
As one of the top quality sushi restaurants in Ginza, the mission of Ginza Sushi Dokoro Shin is "to offer a place that's easy to visit without the struggle and worry of not being able to get in". Unlike other restaurants of this kind in Ginza, here, you can enjoy high-quality sushi at reasonable prices. For example, nigiri sushi made with the freshest daily fish start from 150 JPY per piece. The owner's friendly personality adds to their skills, so you'll be able to eat elite Ginza sushi without making any prior reservations!
Ginza Sushi Dokoro Shin
7. Edo Fukagawa Sushi Nishichi
With its modern entrance, as well as its top quality wooden counter and tables, this restaurant has a sophisticated atmosphere. Using traditional techniques, all the dishes they offer use fish and vegetables from Tsukiji Market, as well as other products directly delivered from Hokkaido. You have 2 options for dinner: their [Omakase Nigiri Course] that allows you to taste 17 dishes (12 of which are nigiri) or the larger [Omakase Course], which consists of 26 dishes, including 12 nigiri and other delicacies like grilled fish. They also have great wines to match with your Edo-style sushi.
Edo Fukagawa Sushi Nishichi
8. Sushi Kanesaka
This is a famous starred restaurant in Tokyo. The chef makes sushi with extreme care, taking into account not just the taste, but also the molding and serving. The charm of their sushi lies in the perfect balance between the rice and other ingredients. The restaurant is particularly attentive to the temperature, humidity, and ripening of the ingredients, in order to serve the sushi at their best condition. You can enjoy all of this in a neat and comfortable atmosphere.
Sushi Kanesaka
The chef of this restaurant was initiated to the traditional art of Edo-style sushi by a famous sushi master, who followed the traditions of a historical restaurant founded over 200 years ago. To maintain the essence (aesthetic sense) of Edo-style sushi, the chef prepares it while wearing a traditional "kinagashi" outfit (a kimono with no hakama or haori). Something you definitely have to try is the [Kohada] that perfectly reflects the chef's training, as well as the steamed [Shio Mushi Awabi], which is salty and tender. Apart from products made with fish-topped rice, you may also want to try their otsukuri (sliced raw fish), aemono (sauce dressed chopped food), and other dishes where each flavor is enhanced by Edo-style sushi techniques.
Ginza Sushi Watanabe
10. Raiden Sushi
Located in Nishi Gotanda, an area in Shinagawa that's full of high-rise buildings, this restaurant has a 40-year-long history. The chef personally goes to Tsukiji every morning to pick the best and freshest fish they can find. A must-try is the [Sashimi Moriawase], which is made with the freshly caught seafood. Another hot dish is [Ni Amaguri no Nigiri] - sweet and spicy marinated clam, done in an Edo style. Alternatively, if you want to taste the true essence of Edo-style sushi, order a [Nigiri Set] consisting of nigiri and maki (roll sushi) pieces, plus a bowl of soup.
Raiden Sushi
11. Jizo-zushi
This is a tiny restaurant with just 6 seats at an L-shaped counter. Just like how every nook and corner inside the place is well-kept, every single ingredient receives extreme attention, and is aged until they are ready to be eaten. [Kinkai Hon Maguro] has the aroma and umami (Japanese savory taste) that only natural maguro offers, and it will literally melt in your mouth when coupled with slightly sweet rice. Another iconic dish is the carefully prepared [Anago] made with [Tsugi Tashi no Nijiru]. Also, don't miss out on the [Tamago] filled with shiba shrimps surimi!
Jizo-zushi
12. Sushi Masuda
You can find this restaurant in Minami Aoyama, an area with lots of brand shops. As the chef's master stated, "The art of sushi is not about molding, but about the preparation". That's why the chef puts incredible care into the preparation of the shari, which is the foundation of sushi: from the selection of the right rice to the cooking process, the acidity of the vinegar, and, when molding it, the quantity and the softness. Sushi rice has a huge influence on the resulting taste of sushi. That's why you definitely should have a taste of this artisan's cuisine. Put it to the test with [Kobu Jime no Kisu]!
Sushi Masuda
13. Ginza Sushi Aoki Ginza Main Branch
Using traditional Edo-style techniques, the second-generation chef of this restaurant offers ambitiously creative nigiri. This is typical of Ginza, a district of continuous evolution that is always in line with the times. The basic choice you can make is [Omakase] (the chef's recommended selection of nigiri), but you are free to customize your order by choosing the quantity of wasabi and shari, adding extra sushi pieces or snacks for your sake, and so on. The king of nigiri is [Otoro], but you may as well appreciate the [Tai 3-shu Mori], which couples sea bream with refreshing and unique ingredients.
Ginza Sushi Aoki Ginza Main Branch
14. Sushi Dai
This super popular restaurant inside Tsukiji Market overflows with tourists every day. As there are only 13 seats, there is always a line outside, from early morning till closing time, so be prepared to wait a few hours. Low prices are one of the secrets to its popularity. The frequently ordered [Omakase Set] allows you to have 10 nigiri, maki, and omelet, along with the option to choose your last nigiri - all for just 4,000 JPY! Another key point is the friendly chef, who will entertain you with a nice chat, and serve each plate according to your eating pace.
Sushi Dai
15. Sushi Suzuki
After 24 years of working at a famous restaurant in Ginza, the chef opened their own restaurant with the idea that "if you open a sushi restaurant, it must be in Ginza". Accepting no compromises, the chef uses only the best carefully selected premium products available at Tsukiji Market. The sushi is prepared using orthodox Edo-style techniques, and the chef is confident that the best flavors are achieved by using the best ingredients. If you want to taste all of that for a reasonable price, head here for lunch on weekdays. You can have a set of 8 nigiri sushi at a price that starts from 4,000 JPY (from 10,000 JPY on Saturday and Sunday).
Sushi Suzuki
16. Ginza Sushiko
It's been 80 years since this historical restaurant opened up in Ginza-Nanachome. Here, you can have Edo-style sushi made with traditional techniques that have been passed on for 4 generations, and at the same time, enjoy plenty of original snacks and unusual sushi ingredients. The top recommendation is the charcoal-grilled [Tokusei no Tamagoyaki] dish, which you simply can't miss out on. Besides the private rooms that have relaxed atmospheres, there is also a "horigotatsu counter" (sunken kotatsu table), which is perfect for business dinners. If you come on Saturday, don't forget to try their delicious, limited edition [Chirashi-zushi].
Ginza Sushiko
Sushi is a Japanese dish that's famous worldwide. The most representative type is [Nigiri-zushi] - bite-sized vinegared rice topped with various ingredients. This is also called [Edo-mae sushi] (Edo-style sushi) after Tokyo's ancient name, "Edo". Tokyo is the real home of sushi, so enjoy authentic sushi in its hometown!
Disclaimer: All information is accurate at time of publication.