Publish-date: Nov 26 2018 Update-date: Jun 27 2019
Like and Share us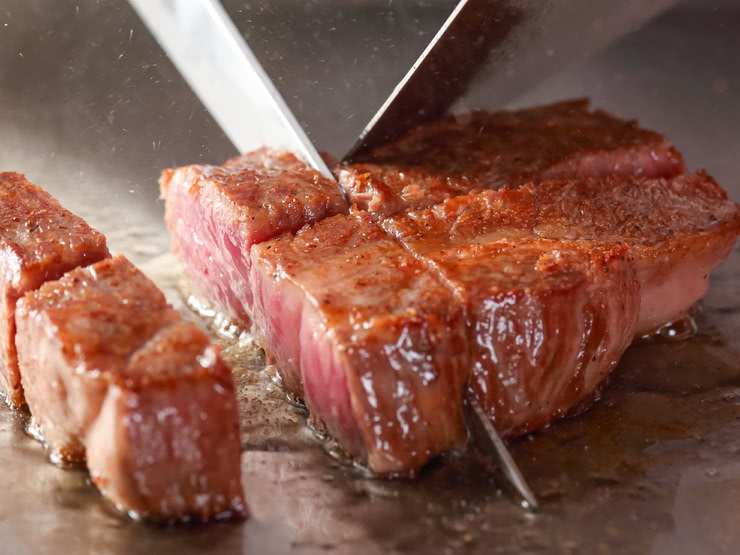 Kobe, along with its surrounding areas, is known for producing premium brand beef, including the famous Kobe beef. Here are some restaurants where you can enjoy steaks using high-quality beef that are sourced from the area, as well as other delectable meat dishes.
1. Kobe Steak Sai Dining
This restaurant lets you taste not only Kobe beef with the highest rank of A5, but also foie gras and fresh abalone at reasonable prices. Surrounded by a chic atmosphere, there are only counter-style seating where carefully selected ingredients are grilled right before your eyes. The place is also popular for serving steak along with seasonal vegetables carefully picked by a vegetable expert. A recommended dish is the [Specially Selected Kobe Beef Chateaubriand Steak Course]. This steak, which is the rarest among the A5-ranked Kobe beef cuts, lets you taste the goodness of both the lean meat and fat. Enjoy the umami (Japanese savory taste) that spreads through your mouth!
Kobe Steak Sai Dining
2. Teppan-yaki Kokoro
At this restaurant, you can savor Kobe beef as well as brand beef from around Hyogo Prefecture. Its teppanyaki (ingredients grilled on an iron griddle) counter provides an exceptional atmosphere and great ocean views. They also have a selection of over 200 kinds of wine and local sake (Japanese alcohol), from which the sommelier can suggest a drink to pair with your dish. The menu consists mainly of course meals, including the recommended [Kobe Beef Course]. Aside from the steak, which has a refined sweetness and fragrance, the greatly satisfying set meal contains other items you can choose like foie gras and wild Japanese tiger prawn.
Teppan-yaki Kokoro
3. Setsu-Getsu-Ka Sumibiyaki - Kobe beef Steak Kappo
This restaurant offers courses with seasonal, exquisite Kobe beef dishes. The [Dry-aged Kobe Beef Steak Charcoal-grilled in a Kiln] is their signature dish that exudes an elegant sweetness. The meat has been dry-aged and grilled over binchotan (high-grade charcoal), further elevating its extraordinary sweetness and umami. Also, the restaurant has acquired certification for preparing raw meat, so guests can have [Kobe Beef Sashimi]. Their menu features plenty of other high-quality dishes.
Setsu-Getsu-Ka Sumibiyaki - Kobe beef Steak Kappo
4. Kobe Gyu / Kobe Yukiyasai Shin
At this restaurant, you can get a taste of Kobe beef and organic vegetables and rice from around Hyogo. They have a wide ranging menu, and if you're lost and don't know what to order, get their [Kobe Beef Loin Steak and Red Meat Tasting Course]. This dish lets you explore the flavors of Kobe beef prepared in different ways, including sushi of seared Kobe beef and roast. As one of their sister restaurants is a bar, they have an abundant range of wines and cocktails as well.
Kobe Gyu / Kobe Yukiyasai Shin
5. Beefsteak Kawamura Sannomiya main branch
Indulge in the finest meat, including beef that won the top prize at a Kobe beef fair. The chef makes sure to check that each piece of meat is in the right condition and grills them in a way that best suits each cut. A must-try is their [Kobe Beef Steak Course]. Aside from steak, this course lets you sample Kobe beef in various forms, including seared specially selected Kuroge Wagyu (a type of high-quality beef) and special oxtail soup. One of their other popular courses comes with luxurious dishes such as [Wild Fresh Black Abalone], which is served with a sauce made using liver, soy sauce, and butter.
Beefsteak Kawamura Sannomiya main branch
6. SETSU GETSU KA - Kobe Beef Steak, Teppanyaki
For 5 years straight, this well-known restaurant has been listed in a prestigious restaurant guide as one of the best dining establishments in Kansai. Here, you can fully enjoy Kobe beef that has passed their own standards and is aged using skillful techniques. They offer two kinds of cuts, fillet and sirloin, which are both grilled in front of you by experienced chefs. It's a delicious treat, both for your eyes and palate. The rest of the menu consists of a lineup of high-quality ingredients like [Fresh Abalone], [Japanese Spiny Lobster], and [Foie Gras with Cassis Sauce]. In addition, they have a sommelier to guide you through their collection of over 90 kinds of excellent wines that compliment teppanyaki. Make sure to savor the great combination of meat and wine.
SETSU GETSU KA - Kobe Beef Steak, Teppanyaki
7. Sandaya Honten -Yasuragi no Sato-
This is a steak restaurant where you can also watch a traditional Japanese theatrical performance called Noh. From August to October, Noh performances with burning torches are regularly held on a stage. For the rest of the year, the Noh stage is lit up in the evening as you dine. With an area of 36,000 square meters, this place provides a relaxing Japanese space while you relish their Kuroge Wagyu steak. A great dish to try is the [Tenderloin Steak and Lobster Course]. Fresh Japanese beef and lobster are brought out raw on a sizzling iron griddle, so you can eat them when they're cooked at just the right level of doneness for you.
Sandaya Honten -Yasuragi no Sato-
8. Kobe Harborland Sandaya
This dining spot lets you enjoy carefully selected Kobe beef and Kuroge Wagyu. The space has a calm atmosphere, with tables set far apart, so you can leisurely enjoy your meal. A recommended dish is the [Kobe Beef Tenderloin Steak Full Course]. The thickly cut steak can be grilled according to your liking, as it is served sizzling on a hot iron dish. The signature dish of [Ham Hors d'oeuvres] is excellently paired with a fresh vegetable dressing. While you dine, you can enjoy the elegant music of a live piano performance.
Kobe Harborland Sandaya
9. SANDAYA Takarazuka
SANDAYA Takarazuka offers healthy course cuisine using meticulously selected Kuroge Wagyu steak, including Kobe beef, and plenty of fresh vegetables. The meat is aged and stored until guests can enjoy it when it's at its most delicious state. The meat is lightly seasoned with their own ponzu (citrus-seasoned soy sauce) to bring out the fat and sweetness, which goes perfectly with the freshly cooked rice that is served with the dish. The restaurant's refined space is ideal for a sophisticated dinner.
SANDAYA Takarazuka
10. Kobe Teppan Dining Negroni
At this restaurant, you can enjoy Kobe beef that is prepared with special cooking techniques. Their signature dish, [Kobe Beef Luxury Course], is popular for allowing the diner to taste and compare seared Kobe beef with sirloin and tenderloin steaks. The [Seared Kobe Beef Salad] included in the course will surprise you as well with the tenderness of the lightly seared Kobe beef. You'll have dishes like [Grilled Vegetables] and [Grilled Risotto] cooked right in front of you and served fresh! The dining experience can only be described as blissful.
Kobe Teppan Dining Negroni
11. Kobe Entrecote
At Kobe Entrecote, you can delight in Kuroge Wagyu steak using domestically raised brands like Kobe beef, and even high-grade ingredients like abalone. In-season ingredients are prepared in various ways and cooked to highlight their original flavors. Their high-quality meat, which is independently procured at great prices, is available in two cuts: tenderloin and loin. You can order by weight and how well you want it cooked. They also have an extensive selection of a-la-carte items like [Okonomiyaki] (Japanese savory pancake) and [Yakisoba] (fried noodles). To end your meal, try their [Teppanyaki Ice Cream], where the ice cream and pineapple are grilled right in front of you. It's hot yet cold! You're sure to find this new kind of sensation to be addictive.
Kobe Entrecote
12. Teppanyaki Kobe Fuji
At this restaurant, you can enjoy cuisine distinct to Kobe, from Kobe beef steak to gourmet-style comfort food like soba-meshi (fried noodles and rice), at a reasonable price. It is well-liked for the wide range of dishes they offer that are great value for money. Among the dishes you will want to taste is the [Tajima Beef Tenderloin Steak]. 100g of tenderloin, considered to be the best part of Tajima beef, is delicately grilled to perfection on a 25mm thick iron plate. Through this simple cooking process, the umami is locked into the meat. Taste it with wasabi or rock salt to further enhance its flavor - the meat and its juice will smoothly melt away in your mouth.
Teppanyaki Kobe Fuji
13. Lamp house
Lamp house serves dishes in semi-buffet style, where you can enjoy steaks and hamburgers in a retro American space that reflects the good old times. The main meat dishes come with a vegetable buffet featuring seasonal produce. Popular items are the [Steak], which consists of a thick cut of domestically produced beef, and [Hamburg Steak] that is prepared by hand every day. Both are grilled on an iron griddle, and a special sauce is drizzled over it just before eating. These gastronomic delights will arouse your appetite even more with their sizzling sounds and aromatic fragrance.
Lamp house
14. Private Rooms, Meat Bar × Italian Cuisine Nikutalia Sannomiya
Nikutalia Sannomiya is a stylish bar where you can enjoy meat and wine. Aside from grilled fresh meat, you can taste authentic Italian cuisine like pizza. Their signature item, [Nikutalia Assortment], is a great-value dish featuring a selection of delicious cuts of beef and duck. You'll get a punch of flavor as you savor the tender, juicy red meat, along with the perfectly grilled seasonal vegetables procured directly from the place of production. They also have an abundant and exceptional selection of wines, so it's perfect for those who want to dine with a large number of people.
Private Rooms, Meat Bar × Italian Cuisine  Nikutalia Sannomiya
15. KOBE BEEF YAMATO
This refined dining space lets you indulge in teppanyaki dishes of Kobe beef and fine seafood. Their [Specially Selected Kobe Beef Steak] exudes a rich flavor and melting sensation in your mouth, and you can choose between the tenderloin and sirloin cuts. The act of grilling the meat right in front of you is an added ingredient to make the meat even more delicious. Their [Grilled Seafood] is a popular dish where you can relish lobster and abalone that are freshly fished out from their tanks. Enjoy the wonderful combination of wine and seafood by pairing your dish with a choice from their large selection of red and white wines.
KOBE BEEF YAMATO
16. Healthy Oil Sosaku Bal FUWARI
This restaurant allows you to enjoy dishes that feature Kobe beef steak and healthy oils in a space where you can feel the warmth of the wooden interior. They use carefully selected oils like coconut, avocado, rice germ, and macadamia in their cooking. Meanwhile, the vegetables used must pass the stringent standards of their certified junior vegetable sommeliers. A popular dish here is the [Kobe Beef and Mushroom Ajillo]. A variety of 7 to 9 mushrooms and top sirloin butt of domestic Kobe beef are simmered and cooked in a blend of avocado and rice germ oils. Spread the dish on baguette slices and enjoy them with a glass of red wine.
Healthy Oil Sosaku Bal FUWARI
17. Le Monde Kobe Sannomiya Second branch
This dining spot offers a taste of the seasons with their char-grilled Kobe beef and seafood, as well as eel and wild game dishes. Its izakaya-style (Japanese pub) of serving numerous dishes at reasonable prices is a popular feature of this place. Their [5-Kind Char-grilled Assortment] is a recommended item from their steak menu. It is a voluminous platter of Kuroge Wagyu steak, Kyoto duck breast, beef tongue, top sirloin butt, and Awaji chicken thigh, all char-grilled and served with grilled vegetables. The meats are cooked medium rare, so you can really taste the difference between the various cuts.
Le Monde  Kobe Sannomiya Second branch
18. Steak House Oriental
At Steak House Oriental, you can taste teppanyaki dishes of Kobe beef and other high-end ingredients as you enjoy the view of Kobe Harbor. This dining establishment is a designated registration store of the Kobe Beef Marketing & Distribution Promotion Association and takes pride in using high-quality Kobe beef. Condiments like wasabi from Shizuoka, Higeta soy sauce from Chiba, Hirota brand ponzu, and seaweed salt from Awaji, are used to enhance the umami of the meat and give it a distinctively Japanese flavor. The delicious essence of Kobe beef can be perceived through its refined sweetness and delicate texture.
Steak House Oriental
19. STEAK HOUSE en
STEAK HOUSE en is a renowned restaurant where you can enjoy Kobe beef raised on organic vegetables at fair prices. The restaurant is thorough in selecting safe ingredients. They purchase rice harvested within the prefecture and fresh organic vegetables every day. The menu mainly features courses such as the [Specially Selected Kobe Beef Sirloin]. Popular options include a seafood course, where you can taste abalone, and a kid's course, which includes a hamburg steak. Their [Cubed Steak Set] is cheaper than their courses, and is a recommended option. You may choose from Kobe beef tenderloin or Kuroge Wagyu tenderloin or sirloin when ordering this meal. There are also a la carte dishes you can enjoy with your family.
STEAK HOUSE en
20. Steak House ZEN Sannomiya Branch
This restaurant offers Kobe beef and fresh seafood dishes in an elegant interior. You'll get a beautiful night view of Kobe from their counter seats facing the window, and your teppanyaki dishes will be cooked right in front of you. A great dish to try is the [Kobe Beef Shabu-shabu Yaki]. Slightly thick slices of Kobe beef are grilled on the iron griddle together with seasonal vegetables and special garlic chips. It is more tender than steak, and the sweetness of the fine fat of the Kobe beef can be savored.
Steak House ZEN Sannomiya Branch
21. Sanda Beef Restaurant Kai
Savor the luxury brand meat, Mita beef, at this steakhouse. It is well-regarded as a top-quality breed from the city of Mita in Hyogo Prefecture. The restaurant uses Kai, which is considered to be the top brand of Mita beef, in their dishes. The meat is grilled on a 19mm thick iron plate to a soft and tender finish. The sweetness of the fine fat and the umami of the red meat linger and create a harmonious blend in the mouth. The [Sirloin Steak] is a gastronomic wonder that is especially juicy, and the flavors burst through with each bite.
Sanda Beef Restaurant Kai
22. Kobe Grill Kobo
Kobe Grill Kobo features Kobe beef steak as the main dish of their course dishes. Their course meals have seven or more items, which includes salad, hors d'oeuvres, and soup. Aside from their teppanyaki, the menu offers a range of authentic dishes. Even the desserts are homemade and meticulously prepared by the chefs. A recommended item among their courses is the [Three Types of Steak Comparison Pair Course]. Taste and compare the flavors of Kuroge Wagyu top sirloin butt, specially selected Kobe beef loin steak, and the Mita Wagyu loin steak.
Kobe Grill Kobo
23. Gin no Gin
Gin no Gin offers the finest Japanese beef breeds of the area, including Kobe beef, Kuroge Wagyu from Tajima, and locally raised Ohta beef. Simple seasonings like salt, wasabi, and ponzu are used to bring out the flavor of the meat. Their [Specially Selected Beef Loin from Hyogo, Tajima, and Ohta] is a great option. With an excellent balance between the lean meat and the fat, the ribeye has a deep flavor. Also, their [Garlic Rice with Wagyu] is a popular dish to end a meal with. The crumbly rice and Wagyu wrapped in the scent of garlic makes an exquisite treat.
Gin no Gin
24. KOBE BEEF RED ONE
Here, you can enjoy the highest-grade A5 Kobe beef without the exorbitant prices. They offer prize-winning beef that is considered to be the rarest among the rare. Among their dishes, the [Sirloin Steak] is extraordinary. It is a luxurious combination of high-quality lean meat and tender fat, giving you a lingering sweetness and umami. Have a try of their popular [Kobe Beef Steak Sushi Chutoro Nigiri], too. The meat is briefly seared right in front of you and served on top of shari (vinegared rice for sushi). The shari, instantly melting in your mouth, creates a splendid fusion with the juice of the meat.
KOBE BEEF RED ONE
25. Pearl
Pearl offers carefully selected meat in a serene atmosphere. The restaurant makes no compromise on choosing the ingredients. Among the ingredients they use are certified Kobe beef, Tajima beef, and Kuroge Wagyu, snow crab from Sakaiminato in Tottori Prefecture, homemade smoked salmon, and Tamba vegetables. Every item down to the dessert in the steak course meals is prepared with close attention to detail. Their appetizers and fresh pasta embodies delicious French and Italian flavors. A large portion of their customers are there to celebrate a special occasion such as anniversaries, which is why they offer the [Anniversary Lunch Course] or [Anniversary Dinner Course], where diners can choose the type of meat they want. Another interesting dish is the sumptuous [Surprise Dessert Assortment].
Pearl
26. Iccokuya
As you enter, a gorgeous red carpet spreads across the floor of the restaurant's posh interior, where it feels like a secret place to enjoy steak. Iccokuya was listed in a prestigious dining guide as one of the best restaurants in the Kansai area in 2015. The restaurant uses beef that has won the grand prize in the Kobe Beef Exhibition. Their [Kobe Beef Sirloin Course] features cuts from female cattle only, and what the diners get is refined umami. The chef, who has been in the industry for 15 years, makes a dynamic presentation of grilling the dish in front of you.
Iccokuya
27. Teppanyaki GOJOZAKA
Enjoy teppanyaki in a great location, on the top floor of the hotel at GOJOZAKA. Their menu mainly consists of course meals, and they are proud of their steak which uses A5 rank sirloin. The chef shows great attention to detail when grilling the meat. First, he cooks the meat at a high temperature, after which it is rested to seal the juice and intensify the umami. As you eat, it's crispy on the outside yet soft on the inside, with the deliciousness of the meat spreading gently in the mouth.
Teppanyaki GOJOZAKA
28. Kobe Niku Bal x Monde
This is an izakaya offering creative cuisine where you can leisurely dine on high-end meat such as Kuroge Wagyu, Kobe beef, Awaji chicken, and other carefully selected ingredients. A recommended dish is the [Tomahawk] steak that will impress you with its length of 50 centimeters. This 600g ribeye has a perfect balance of the lean meat and the fat, and you can enjoy its juicy and deep flavor. If you are unsure of what to order from their plethora of dishes, go for their [5-Kind Assortment of Meat]. It is a lineup that meat lovers cannot resist, consisting of Kuroge Wagyu, tenderloin, Awaji chicken, beef tongue, and sausage.
Kobe Niku Bal x Monde
29. Sogo
This is a restaurant that offers a luxurious taste of teppanyaki dishes made with meticulously selected ingredients. Both the lunch and dinner menu consist of courses only. For their steak, meat with a strong sweetness and umami are carefully selected from various areas. Aside from the meat, they also serve course meals with fresh seasonal seafood and foie gras. Depending on the season, you may even find grilled matsutake mushrooms in some of their courses that come with seasonal grilled vegetables. This is a great treat for those who want to fully enjoy the richness of Japanese flavors.
Sogo
30. Namiki
With only 7 counter seats available, this restaurant will make you feel like you are in a secret steak paradise. Here, you can taste Kobe beef that are purchased whole. The meat is not flambéed, but instead cooked in such a way that diners can enjoy the original flavor and aroma of the meat. For your first bite, eat the meat as it is. For the second, savor the meat with garlic chips and their homemade wasabi on top. They will let you know how to enjoy the beef at the most. They have popular course dishes where you can taste various cuts of beef, thanks to them buying the whole head of cattle. Their [Seared Kobe Beef Steak Sushi], however, is said to be ordered by more than half of the diners, and you can fully relish the sweetness of the meat with every bite.
Namiki
As the home of Kobe beef, you can find many brands of beef in various restaurants in Kobe. Make sure to try it even once if you find yourself in Kobe!
Disclaimer: All information is accurate at time of publication.