Publish-date: Dec 11 2018 Update-date: Jun 27 2019
Like and Share us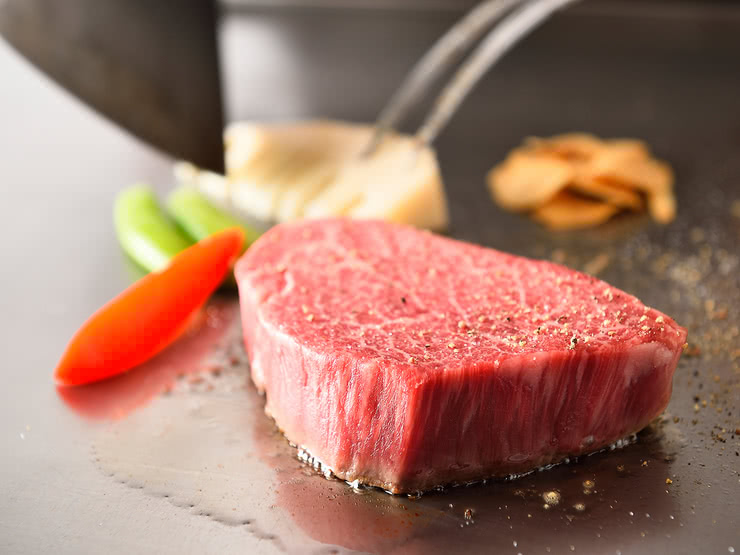 Competition between restaurants is fierce in Tokyo, and there are many famous restaurants offering steaks that are sure to make meat lovers' mouths water! Here are 29 spots in Tokyo, ranging from high-end spots to casual spaces, and from well-established restaurants to newly-opened ones!
1. Niku No Mansei Akihabara Branch Chiyoda (Akihabara / Teppanyaki)
Akihabara, a veritable holy ground for many subcultures, is also home to this restaurant, known for its excellent meat dishes. Come here to enjoy teppan (iron griddle) steaks made with top-tier Kuroge Wagyu (a type of high-quality beef), as well as grilled fresh seafood, all while taking in the sights of lively Akihabara! Dinner consists primarily of course options, and the [Kuroge  Wagyu Steak Course] starts from 150g for 13,000 JPY. You will love this meltingly tender Wagyu (a type of high-quality beef)! Be sure to also try the [Kuroge Wagyu Steak Teppanyaki Lunch] (from 4,800 JPY)!
Niku No Mansei Akihabara Branch Chiyoda
2. Bifteck Kawamura Roppongi branch (Roppongi / Teppanyaki)
This Kobe beef specialty restaurant, beloved by meat enthusiasts, is located in Roppongi, one of Tokyo's iconic downtown areas. The individual identification number of the beef being used that day is displayed at the front of the restaurant, and customers can relax in the knowledge that this meat not only tastes great but that it also has been discerningly selected to ensure a safe product. Kobe beef is noted for its tenderness and rich flavor, as well as its fine marbling and the sweetness that comes with it! Enjoy this meat's umami (Japanese savory taste) to your heart's content with the restaurant's excellent [Premium Kobe Beef Steak Course] (17,500 JPY).
Bifteck Kawamura Roppongi branch
3. URAROJI (Kayabacho / Western Cuisine)
URAROJI, located on a back street ("uraroji" in Japanese) of Kayabacho, feels like a hidden location and offers guests a refined dining atmosphere. Diners here can enjoy everything from A5-ranked aged Wagyu to fresh seafood, dynamically cooked both on a teppan or over charcoal. The owner and chef is certain that you will enjoy the [Aged A5 Wagyu Steak] (from 2,500 JPY)! This steak is made with A5-ranked Wagyu, aged perfectly for maximum flavor, and will simply melt in your mouth! It is cooked right before your eyes so that you can enjoy it while it is still piping hot!
URAROJI
4. RUTH'S CHRIS STEAK HOUSE (Toranomon / Steaks, Hamburg Steaks, Curry)
This is the Tokyo location for Ruth' Chris Steak House, a well-established, premium steak house in the United States. The steaks here are cooked with a direct flame to concentrate the meat's umami, a technique involving short cooking times and high heat. The resulting steak is seared all the way through with the signature technique at Ruth's Chris Steak House! You will love choices such as the [11-Ounce Tenderloin Steak] (310g for 7,700 JPY), made using premier corn-fed USDA beef tenderloin, and the [16-Ounce New York Strip Steak] (450g for 9,800 JPY), which boasts a perfect ratio of red meat to fat.
RUTH'S CHRIS STEAK HOUSE
5. CARNEYA ANTICA OSTERIA (Ushigome-yanagicho/ Italian Cuisine)
"Carne" means "meat" in Italian, and this Italian restaurant's meat dishes are highly praised by epicures! These various dishes are cooked over charcoal, with each piece and cut being cooked perfectly to bring the meat's umami to its true, delicious potential. The [200 Day-Aged Steak Tartare] (3,500 JPY) is made using gooseneck round from the top sirloin butt that has been thoroughly aged for 200 - 280 days, resulting in a wonderful texture. You must try this steak, which is the signature dish of this establishment.
CARNEYA ANTICA OSTERIA
6. Farmer's Restaurant - Wagyu Kinka (Hamamatsucho / Japanese)
As the restaurant's name implies, this popular restaurant is directly managed by a farm. And its many dishes featuring domestically-raised Wagyu are celebrated by gourmands. This restaurant's prized [1-Pound Steak] is created with 3 varieties of meat, including a T-bone and outside skirt, all arranged on one plate! This delicious and utterly filling option is highly recommended as a choice for parties. Another excellent choice is the advertised [Deluxe Outside Skirt Steak] (300g for 1,980 JPY), featuring a thick cut of rare outside skirt steak bursting with meaty juices that goes perfectly with a drink.
Farmer's Restaurant - Wagyu Kinka
7. Kobe Beef Teppanyaki Pandora Takumi (Shinjuku / Teppanyaki)
This restaurant is the sister branch to the venerable Pandora, teppanyaki (ingredients grilled on an iron griddle) restaurant in Nishi Shinjuku. The meat dishes here are popular for featuring meat from cattle known for the standout quality of their umami, even amongst other types of A5-ranked Kobe beef. If you want to savor the taste of the best Kobe beef fully, the [Pandora Course] is the right choice for you! This course consists of 8 items in total, focusing on meat but also including an excellent variety of seafood and vegetables. You can also order a Kobe beef steak a-la-carte with choices such as the [150g Sirloin Steak] (from 13,400 JPY).
Kobe Beef Teppanyaki Pandora Takumi
8. Kato Beef GINZA (Ginza / Steaks, Hamburg Steaks, Curry)
Kato Beef Ginza takes great care in selecting only the best Yamagata beef, raised in the Tohoku region. The current owner here is the third generation owner of this restaurant, which exclusively uses the highest quality heifers (female cows) with good fat quality. These cattle are known for their high-quality fat, and the meat procured here is specially designated by the breeders. Only course options are offered here until 9:00 pm and the centerpieces of these courses is chateaubriand and sirloin steak of Yamagata beef! You are sure to love these premium steaks, which have a sweetness reminiscent of nuts.
Kato Beef GINZA
9. RANGETSU of TOKYO (Ginza / Western Cuisine)
This steak restaurant is managed by Ginza Rangetsu, a well-established restaurant known for shabu-shabu (sliced meat parboiled with vegetables) and sukiyaki (hot pot stew). There is a wide variety of steak to choose from here, made with well-aged, high-quality Kuroge Wagyu and cooked on lava rocks from Mt. Fuji. Diners will be pleased to know that cuts can be ordered by the gram here! If you want to enjoy a superb steak truly, then the luxurious [King & Queen 1-Pound Steak], featuring a sampling of sirloin and Chateaubriand, is the choice for you!
RANGETSU of TOKYO
10. APRON The DINER (Kanda / Western Cuisine)
This restaurant, conveniently located only a 3-minute walk from Kanda Station, is on the first floor of the APA Hotel Kanda-Ekimae. Diners here can order from a diverse menu full of choices for breakfast, lunch, and dinner while relaxing in the casual, diner-like atmosphere. Fans of all things meaty will certainly enjoy the [Grilled T-Bone Steak] (4,200 JPY), a completely satisfying choice. Don't miss out on the [Flat-Iron Steak with Gravy Sauce M] (2,800 JPY) either, a dish bursting with concentrated umami and juices!
APRON The DINER
11. HIMIKO (Akasaka / Teppanyaki)
HIMIKO is a tucked-away teppanyaki spot in Akasaka 3-chome, in the heart of Tokyo. A diverse selection of food is offered here, which naturally includes premium Kuroge Wagyu steaks, along with excellent seafood and vegetables cooked on teppan, and even seafood items. The [Tenderloin Steak] (50g for 2,500 JPY) uses only beef ranked A4 or higher, and is a highly recommended choice here! This steak is thoroughly seared without compromising its tenderness or umami at all, and can be enjoyed with Mongolian rock salt, wasabi-joyu (wasabi-flavored soy sauce), or ponzu (citrus-seasoned soy sauce) with yuzu kosho (fermented paste of citrus fruit and chili peppers) paste.
HIMIKO
12. Harold & Co (Omotesando / Italian Cuisine)
This stylish restaurant is located close to Omotesando Hills, a popular shopping spot. The table seating here has a bright, open feeling, while a distinct sense of luxury permeates the private rooms, making this restaurant suitable for all manner of occasions! Harold & Co's menu is highly varied, but meat lovers must be sure to try the [Angus Steak] (2,380 JPY). This juicy steak pairs perfectly with a [Glass of Wine (White or Red)] (from 600 JPY)!
Harold & Co
13. Garden Kitchen Karumera (Shibuya / Western cuisine)
Garden Kitchen Karumera is located inside the lobby of the Cerulean Tower Tokyu Hotel, at the Shibuya Station West Gate. The morning buffet here is popular, as are the lunch and dinner courses, and the extensive menu, which includes many a-la-carte items good for pairing with drinks, is always a hit with people visiting from out of town! However, the star attraction here is the [Masakari Grilled Bone-In Beef Loin] (6,498 JPY). This dynamic bone-in loin steak serves 2 - 4 people and lives up to its name "Masakari," meaning battle ax!
Garden Kitchen Karumera
14. EBISU GRILL Tefu Tefu (Ebisu / Gastropub)
This restaurant, specializing in grilled aged meat, is a very convenient 1 minute walk from Ebisu Station. The carefully-selected meat here has been snow-aged, helping the umami and tenderness realize their full potential! If you want to fully experience these delicious flavors, try the recommended [Premium Sirloin or Tenderloin Course] (6,000 JPY). The centerpiece is a superb, snow-aged sirloin or tenderloin steak, and this course also includes a 3-hour all-you-can-drink as well!
EBISU GRILL Tefu Tefu
15. Smoked and Charcoal Grilled Meat Bar Meatpia Roppongi Eki-mae branch (Roppongi / Izakaya)
Unwind and relax with this casual restaurant's wide selection of meat dishes and wines! The advertised [Outside Skirt Steak] (100g for 1,380 JPY) features a cut of outside skirt steak that is well-cooked over charcoal, resulting in juicy, tender meat full of umami! Diners can choose from 1 of 3 seasonings: Genova sauce, smoked salt, or wasabi. The [Spare Ribs] (2 pieces for 680 JPY) is loaded with the flavor of garlic steeped in a special sauce, and is another recommended choice here!
Smoked and Charcoal Grilled Meat Bar Meatpia Roppong Eki-mae branch
16. Wine Bar Hatsune Roppongi (Roppongi / Wine bar)
Guests here can enjoy a live piano performance and nighttime views of Roppongi along with their premium wine and Italian cuisine! There are some 500 varieties and 800 bottles in this restaurant's wine cellar, and this spot has a reputation for always having the perfect wine for any meal or budget. Diners can also choose from a large selection of food here, and when in the mood for meat, both the [Tenderloin Steak] and [Sirloin Steak] are highly recommended! Enjoy your favorite red wine along with one of these juicy steaks!
Wine Bar Hatsune Roppongi
17. KUROGE WAGYU RESTAURANT HACHI (Omotesando / Western Cuisine)
KUROGE WAGYU RESTAURANT HACHI offers steaks and a variety of other dishes featuring discerningly-selected A5-ranked Kuroge Wagyu! All of the dishes made with this top-grade Wagyu also pair outstandingly well with wine. The flavors of the meat itself are on full display in the [Kuroge Wagyu A5 Steak], and both a tenderloin option (100g for 4,500 JPY, 150g for 6,500 JPY) and thick-cut sirloin option (150g for 4,200 JPY, 300g for 8,400 JPY) are available. Whichever you choose, the delicious juices dripping from the steak are sure to make your mouth water!
KUROGE WAGYU RESTAURANT HACHI
18. Teppanyaki & Steak Tarond (Kagurazaka / Teppanyaki)
This spot, lauded by critics, is located on a corner in Kagurazaka, an area filled with renowned restaurants. The stringently-selected meat used here is domestically-raised and ranked A5, and focuses primarily on brands such as Saga, Miyazaki, and Yamagata marbled wagyu beef. This meat is cooked right in front of customers in an impressive yet delicate performance, resulting in creations that are sure to utterly satisfy diners! You have to try the [Chateaubriand of the Day] (from 150g, 9,600 JPY). The flavor of this A5-ranked Kuroge Wagyu steak, made using the unbeatable tenderloin cut, is simply sublime!
Teppanyaki & Steak Tarond
19. TEPPANYAKI STEAK PANDORA (Shinjuku / Teppanyaki)
This famous spot in Shinjuku has been in business for around half a century and is beloved by many. Premium marbled Kuroge Wagyu, primarily from the Matsusaka brand, is used in this restaurant's meat creations, from sukiyaki to shabu-shabu and their specialty, steak. And of course, watching the food being prepared right in front of you is all part of the dynamic experience when dining at a teppanyaki restaurant! In addition to the [Matsusaka Dinner] (15,800 JPY), featuring this restaurant's prized A5-ranked premium marbled Kuroge Wagyu, diners can also enjoy this marbled meat for a more reasonable price with the [B Dinner Steak Set] (8,600 JPY), made using A3-ranked Wagyu.
TEPPANYAKI STEAK PANDORA
20. NIKUSHO Nakata (Omotesando / Yakiniku)
NIKUSHO Nakata offers 7 varieties of salt so that customers can enjoy the authentic flavors of the meat. This style of discerningly pairing different salts with different cuts of meat has made this place quite popular! The [35 Day-Aged Premium Kuroge Wagyu Sirloin Steak] (7,560 JPY) is made using sirloin from the original Kansai Daikokusen brand. Aging the meat for over a month results in increased umami and an enhanced sweetness of the fat, and this beef is then grilled simply, producing great results! Be sure not to miss the superb [Chateaubriand Steak] (8,650 JPY), either!
NIKUSHO Nakata
21. 300B ONE (Ikebukuro / Western-style Izakaya)
300B ONE is popular amongst meat enthusiasts for its all-you-can-eat option centered around steak. Their signature item, [300B-ONE All-You-Can-Eat Steak Course] (3,350 JPY, must be ordered in advance), includes 10 varieties of steak, as well as other dishes and dessert, and lasts for 2 hours! Don't miss out on this diverse selection of steaks, made with excellent Wakahime beef, horse meat, and venison procured through special connections! A-la-carte options such as the [Wakahime Beef Mega-Steak] (2,280 JPY) also are sure to fully satisfy you with their delicious flavors and hearty portions!
300B ONE
22. GRILL ANDOU (Koiwa / Teppanyaki)
GRILL ANDOU offers diners teppanyaki cooking with premium ingredients, such as Sendai beef, foie gras, and awabi (abalone)! Sendai beef, a well-known high-end beef brand, makes for a wonderfully delicious, umami-filled steak that stands above the competition. Therefore, be sure to try the [Sirloin Steak] (100g for 6,200 JPY)! Watch the chef cut up this Sendai beef from up close, and then savor the juicy meat fresh off the grill! Also, be sure not to overlook the [Sendai Beef Chateaubriand] (100g for 9,300 JPY).
GRILL ANDOU
23. Kappo Tonbo (Asakusa / Japanese Cuisine & Kaiseki)
Asakusa, one of Tokyo's prime tourist destinations, is home to this longtime establishment, which has been in business for over 80 years. The Japanese cuisine here highlights traditional seasonal flavors, and one standout item is the [Sirloin Steak] (120g for 3,000 JPY), made using top-ranked A5 beef from top domestic brands such as Matsusaka, Miyazaki, and Saga. The perfectly grilled steak, made with ingredients discerningly chosen by the chef, has delicate flavors and a colorful plating style characteristic of Japanese cuisine.
Kappo Tonbo
24. Aoyama Spain Bar El Vuelo (Omotesando / Italian)
Aoyama Spain Bar El Vuelo is a casual bar that offers diners meat dishes created from exactingly-chosen ingredients, as well as a large wine selection. Beef, pork, lamb, and even horse are all offered here in a variety of dishes, but the one item you must try is the [Saga Beef A5 Top Sirloin Butt Steak] (2,580 JPY), made with top-ranked A5 Saga beef, a premium brand in Japan. The rare cut from the rump used in this first-rate dish is highly juicy and has wonderful umami, and pairs perfectly with wine!
Aoyama Spain Bar El Vuelo
25. Onzoshi Kiyoyasutei (Roppongi / Japanese Cuisine)
Despite being less than a 1-minute walk from Roppongi Station, this spot has a quiet, refined atmosphere wholly at odds with the hustle and bustle of the street outside. In the midst of this restaurant's modern Japanese aesthetic, diners can experience the flavors of high-end seafood such as awabi and Japanese spiny lobster, as well as brand-name beef, all of which are prepared primarily using the teppan. One must-try dish here is the [Kyoto Beef Sirloin Steak] (100g for 7,000 JPY)! This delicious steak, made using top-ranked A5 Kyoto beef, will melt in your mouth!
Onzoshi Kiyoyasutei
26. Teppanyaki Miyabi (Shinjuku / Teppanyaki)
This teppanyaki specialty restaurant is located on a corner in Kabukicho, a bustling downtown area full of lively streets. There are many course options here featuring premium ingredients which are cooked before your very eyes! A5-ranked Kuroge Wagyu carefully selected from across Japan, such as brand-name Yamagata beef, is prepared right in front of you on the teppan, resulting in fresh, hot dishes that are sure to impress! If you would prefer an a la carte option, try the [Kuroge Wagyu Chateaubriand Steak] (8,800 JPY). The restaurant only serves 400g total of this rare meat per day!
Teppanyaki Miyabi
27. Kappou Sanchou (Shibuya / Japanese Cuisine)
Kappo Sanchou has a modern Japanese aesthetic, as it is located in a remodeled Japanese restaurant built over 60 years ago. Seasonal flavors are on full display in the food here! The counter seating in the open space looks out on a Japanese garden inside the restaurant, and there are private rooms and table seating available as well. This restaurant offers superb Japanese cuisine for any occasions. The menu is quite diverse, but for meat-eaters, the [Ozaki Beef Sirloin Steak] (100g for 5,000 JPY) is recommended! The umami-rich and tender Ozaki beef will surely stoke your appetite, and it pairs exceptionally well with sake (Japanese alcohol).
Kappou Sanchou
28. Teppanyaki Steak Kisentei (Roppongi / Japanese Cuisine)
Any Japanese food critic is certainly aware of the sukiyaki restaurant, Ningyocho IMAHAN, and Teppanyaki Steak Kisentei, a teppanyaki spot opened by that venerable establishment in Roppongi. Diners here can savor Kuroge Wagyu, one of Ningyocho IMAHAN's signature items while taking in the nighttime views of Roppongi from this prime location. You will be fully satisfied by this restaurant's discerning choices, whether enjoying the [Kuroge Wagyu Deluxe Sirloin Steak] (150g, or 100g of tenderloin, for 10,800 JPY) or the [Kuroge Wagyu Premium Sirloin Steak] (150g, or 100g of Chateaubriand, for 15,120 JPY)!
Teppanyaki Steak Kisentei
29. -KANBE- Meat Bar & All-You-Can-Drink Beer! Private Rooms in a Hide-Away (Shinjuku / Italian Cuisine)
This spot, conveniently located a mere 1 minute walk from Shinjuku Station, is popular for its meat dishes. Diners can choose from a variety of seating options, from window seating overlooking the sparkling nighttime views of Shinjuku to private rooms for leisurely dining. When dining here, be sure to try their signature dish, [200g Wagyu Sirloin Steak] (2,980 JPY), lovingly cooked over low heat to bring out the umami of the meat. The red meat's signature delectable flavor of is best enjoyed alongside grilled vegetables.
- KANBE- Meat Bar & All-You-Can-Drink Beer! Private Rooms in a Hide-Away
Disclaimer: All information is accurate at time of publication.