Publish-date: Nov 27 2018 Update-date: May 31 2019
Like and Share us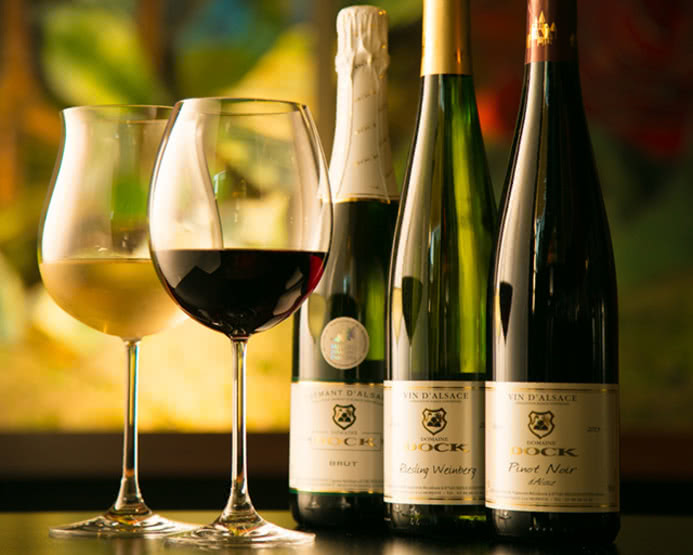 No trip or vacation is complete without a few delicious drinks. After all, a perfect day doesn't simply end with dinner, but rather should also include drinks at a spot with a discerning selection of beverages! On that note, here are 30 spots in Kyoto with excellent assortments of wine.
1. Aji Fukushima (Gion-shijo / Japanese & Kaiseki Cuisine)
This Japanese restaurant, located close to Shijo Hanamikoji, was started by the Gion teahouse, Fukushima, and offers the kind of refined decor and customer service one would expect of such an establishment. Aji Fukushima's food, such as the chef's choice [Evening Course] (10,000 JPY), showcases the flavors of the seasons. Artfully arranged items on traditional "hassun" dishes and skillfully-made soups are just some of the items that have helped earn this spot a star, so be sure not to skip this restaurant! This spot boasts an in-house sommelier as well, so why not have the perfect wine chosen for you to pair with your kaiseki (traditional Japanese course cuisine)?
Aji Fukushima
2. Gion Owatari (Gion-shijo / Japanese & Kaiseki Cuisine)
Gion Owatari is located in an old house in Gion, and is popular for its Kyoto kaiseki cuisine. The chef here works deftly behind the counter as using Kyoto's pure water and dashi (broth), the very lifeblood of Japanese cuisine, to create dishes that even Kyoto's gourmands, accustomed to fine dining, cannot help but praise! The drink selection focuses on sake (Japanese alcohol) and wine that pairs well with the food, and in fact, the chef holds a sommelier license in order to recommend wines better. All of these aspects were contributing factors when this restaurant earned a star in 2012. Savor the essence of Kyoto's kaiseki cuisine here with the [Chef's Choice Course] (14,000 JPY)!
Gion Owatari
3. Aoike (Marutamachi / French Cuisine)
Aoike, located in a renovated Kyoto townhouse with a modern Japanese interior design, is popular for its original take on French cuisine. The distinctive East-meets-West fusion cuisine here features attention-grabbing sights, such as local, traditional vegetables prepared with French techniques. The centerpiece of the [Yamagata Sangen Pork Chuck Course] is a piece of Sangen pork that has been stewed at a low heat. This meat's rich umami (Japanese savory taste) is highlighted by the vegetable garnish, resulting in a fabulous dish! The 1st floor of Aoike is all counter seating, while the 2nd features table seating, making this a versatile space that can cater to a variety of occasions.
Aoike
4. Kikuka (Kyoto Shiyakusho / Japanese Cuisine)
Seasonal Japanese cuisine awaits diners at Kikuka, a restaurant with a casual Japanese aesthetic. Guests who aren't sure what to order can't go wrong with the [Obanzai of the Day] (from 400 JPY each), featuring side dishes typically made in Kyoto home cooking. If you're in the mood for fish, try the [Sashimi Sampler of the Day] (from 1,000 JPY per person), and if you'd rather have meat, then order the [Duck Roast] (1,200 JPY), bursting with rich, savory flavors! There is also a wide selection of wine here, ranging from [Today's Glass of Wine (Red or White)] (from 600 JPY each) to the prized California wine, [2012 Opus One] (60,000 JPY for a bottle)!
Kikuka
5. TENTATION (Sanjo Keihan / Italian Cuisine)
TENTATION has a relaxing, cafe-like atmosphere, and the chef here boasts a large fanbase thanks to the authentic French and Italian cuisines offered at this popular spot. Meat lovers certainly will not want to miss out on the [Kyoto Sirloin Steak] (3,600 JPY for 130g), a dish in which high-quality Kyoto meat seems to simply melt in your mouth. Pair it with wine for an unbeatable combination! TENTATION's chef has experience working in a wine bar bistro, and this has directly influenced the selection here that you can choose from when ordering a [Glass of Wine] (from 580 JPY).
TENTATION
6. garu (Kawaramachi / Izakaya)
This restaurant is popular for its many meat dishes featuring superb meats like Kyoto Tamba Kuroge Wagyu beef, Kyo Aka Jidori (local chicken), and Kyoto pork. For those looking to experience the delicious flavors of meat from Kyoto, the [Charcoal-Grilled Kyoto Meat 3-Variety Sampler] (65g of Tamba Kuroge Wagyu, 65g of Kyoto pork, and 120g of Kyo Aka Jidori for 2,300 JPY) is sure to be a hit! Don't miss out on the other dishes either, such as rustic wild boar and horse meat. And of course, when eating meat, wine is a must! The selection here includes choices from Spain, France, and Italy, with bottles starting at 2,900 JPY.
garu
7. Premium Wagyu Steak Hanasato (Gion-shijo / Teppanyaki)
This spot is a 7-minute walk from Gion-shijo Station and specializes in teppanyaki (ingredients grilled on an iron griddle) cuisine. Located inside a remodeled traditional Kyoto townhouse, they feature such ingredients as Yonezawa meat and seasonal seafood in their various dishes. The most highly-recommended choice here is the [Premium Yonezawa Beef Sirloin Steak], which becomes the centerpiece of a whole course meal. This steak has a superb ratio of red meat and fat, and will melt on your tongue! Enjoy the original French Alsatian wine, Domaine Dock, only available in affiliated restaurants in Japan, along with your meal.
Premium Wagyu Steak Hanasato
8. Le Steak Frites Gaspard zinzin (Karasuma / French Cuisine)
This restaurant, located a 3-minute walk from Karasuma Station, is popular for its first-rate steaks created by a chef who specializes in French cuisine. Lovers of all things meaty surely won't want to miss out on [Le Steak-Frites] (steak and fries) (Small 2,800 JPY / Medium 3,800 JPY). They will be utterly satisfied by this sirloin steak bursting with juicy umami, the flavor of which continues to deepen the longer you chew! Along with their meal, diners can also enjoy a [Bottle of Wine] (2,500 JPY / 4,800 JPY) discerningly chosen by the chef.
Le Steak Frites Gaspard zinzin
9. Kushinobo Kyoto Station Branch (Kyoto / Japanese Cuisine)
This kushiage (fried skewer) spot is located in an area filled with specialty shops that is directly connected to JR Kyoto Station. Its 11th-floor location offers seating with excellent nighttime views, making it a popular spot. Various seafood, meat, and seasonal vegetables are fried simply on skewers (162 - 540 JPY for 1 skewer) here, but the one option you must try is the [Kanikisu-maki]. For this dish, kani (crab meat) is removed from its shell, cut into small pieces, wrapped in kisu (smelt-whiting fish), and finally steam-fried! Be sure to also try the original [Rubaiyat Kushinobo Wine] (1,620 JPY for a half bottle), created in collaboration with the famous Marufuji Winery, the face of Japanese wine.
Kushinobo Kyoto Station Branch
10. Ginnan (Kyoto / Original Japanese Cuisine)
Ginnan offers original takes on Japanese cuisine, and is conveniently located only a 3-minute walk from Kyoto Station. The delicious, modern cuisine here has been praised for applying modern sensibility and techniques to essential Kyoto ingredients, such as Kyo-yasai (traditional Kyoto vegetables), yuba (tofu skin), and namafu (wheat starch). The [Eggplant and Shrimp Yuba Ankake] (850 JPY) is one popular choice in which the eggplant's heady aroma and umami is enhanced by the shrimp and yuba dashi. Diners can experience all manner of Western and Japanese fusion dishes here, such as the [Kyoto-style Yuba and Namafu Teriyaki Pizza] (1,180 JPY) and the [Eggplant and Cheese Dengaku], featuring eggplant and cheese fried without any batter - a great combination!
Ginnan
11. Ristorante STRADA (Karasuma Oike / Italian Cuisine)
The Italian restaurant Ristorante STRADA carries on the tradition of the famous Fukumura, which is said to be the oldest restaurant in Japan. The full wine selection, exactingly chosen by a sommelier, offers a total of 10 wines: 4 reds and 4 whites, as well as 2 sparkling wines. Glasses of wine are also offered, so order a glass with your meal, relax, and enjoy! There are many food choices here that go well with wine, but the recommended dish is the [Duck Roast] (3,000 JPY). This duck, slow-cooked over low heat, pairs perfectly with red wine.
Ristorante STRADA
12. Fukujuen Kyotohonten Sankai "Kyo no Chazen" (Shijo / French Cuisine)
Kyo no Chazen is a French restaurant located in Fukujuen's flagship store, which is a long-established teahouse for Uji tea. The chef here formerly worked as the head chef at Ginza MAXiM'S DE PARiS, the face of French cuisine in Japan, and his creations here use Uji tea in every dish. The recommended [Afternoon Chazen Course] (4,320 JPY) is a lunch course made with a rich, flavorful sauce in the style of Maxim's in Paris that allows diners to sample a variety of flavors, including veal and seafood. Enjoy a [Sparkling Wine] or [Sencha Sparkling], made with green tea, along with your meal!
Fukujuen Kyotohonten Sankai "Kyo no Chazen"
13. Nikuya no Daidokoro - Kyoto Kiyamachi Meat (Sanjo / Yakiniku)
This restaurant is popular for its all-you-can-eat yakiniku (Japanese BBQ) that prominently features the popular Kobe beef. Domestically-raised Kuroge Wagyu beef is purchased in blocks and cut up at the restaurant, allowing diners to enjoy this first-rate meat for a reasonable price! The all-you-can-eat course is 90 minutes long and starts from 2,980 JPY. The [Kobe Beef All-You-Can-Eat-and-Drink Banquet Course], however, is 8,000 JPY and lasts for a full 120 minutes! There is also a large wine selection here, ranging from single glasses of [House Red or White Wine] (110 JPY each) to full bottles, all of which pair wonderfully with yakiniku!
Nikuya no Daidokoro - Kyoto Kiyamachi Meat
14. Oinai Ichibakoji Shijo Karasuma (Shijo / Yakiniku)
This spot, located on the first basement floor of the Kyoto Mitsui Bldg., directly connected to Shijo Karasuma Station, is hailed by meat lovers for its delicious yakiniku. Whole Kuroge Wagyu cattle, carefully chosen by butchers and ranked A4 or above, are purchased here, which enables the restaurant to provide diners with a wide variety of rare cuts for a reasonable price. If you are not sure what to order, try the [Chef's Recommended 7-Variety Sampler] (from 5,292 JPY), a good way to sample the recommended cuts of the day. And be sure not to miss out on the photogenic [Meat Cake] (5,400 JPY), either! A [Glass of Wine (Red or White)] is 529 JPY, while a [Bottle of Wine] starts from 2,138 JPY.
Oinai Ichibakoji Shijo Karasuma
15. Sumibi Steak Sakai Kyoto Sanjo (Karasuma Oike / Teppanyaki)
This renowned restaurant is known for its superb steaks made from discerningly-selected domestic Kuroge Wagyu beef and grilled over Hyuga binchotan (a kind of high-quality Japanese charcoal). The main attraction here is the [Kuroge Wagyu Beef Sirloin] (7,500 JPY for 100g), which displays a marvelous balance of meat and fat, and whose umami brought to its full potential through charcoal cooking. This simple preparation only serves to further highlight the flavors of the meat itself! You will also want to try the [Deluxe Gyutan Stew] (2,000 JPY), featuring slowly stewed gyutan (beef tongue). The restaurant has a wine cellar on the premises, offering diners a wide selection of drinks to pair with their meat, such as a [Bottle of Wine] (from 3,800 JPY).
Sumibi Steak Sakai Kyoto Sanjo
16. KYOU Karasuma (Marutamachi / Shabu-shabu & Sukiyaki)
KYOU Karasuma is the restaurant for the Noku Kyoto Hotel, located near the Kyoto Imperial Palace. The diverse and highly-regarded menu here offers a variety of Japanese cuisine, from Japanese kaiseki courses to sukiyaki (hot pot stew). One particularly recommended option is the [2-Variety Domestic Beef Shabu-shabu] (5,000 JPY). This dish includes 2 rare cuts of domestic beef, which diners can enjoy as shabu-shabu (sliced meat parboiled with vegetables) to compare the different flavors. The [Kyo Special Roast Beef-don] (2,000 JPY) features the excellent combination of KYOU's prized roast beef with Koshihikari rice from Tamba and is another popular dish here. Ask the staff to recommend wine that will go well with your meal!
KYOU Karasuma
17. Gyukushibunzo Pontochoten (Sanjo / Izakaya)
This izakaya (Japanese pub) is notable for its kushiyaki (grilled skewers) made using premium Kuroge Wagyu beef! Enjoy a drink while leisurely snacking on [Kushiyaki] (from 200 JPY) featuring tender, umami-filled Wagyu beef, Kyo-yasai, and horumon (offal). There is also a large selection of wine collected from around the world here, which can be ordered as a [Glass of Wine (Red or White] (600 JPY each) or in full bottles. Try the [Charcoal-Grilled Sausage Sampler] (900 JPY) or [3-Variety Smoked Sampler] (900 JPY) along with your wine!
Gyukushibunzo Pontochoten
18. Daniel's Sole (Karasuma / Italian Cuisine)
Daniel's Sole, located in a remodeled Kyoto townhouse, offers authentic Italian cuisine such as oven-fired pizza and handmade fresh pasta. The owner and sommelier have selected a fabulous array of reasonably-priced wines to be enjoyed along with the food. Glasses start from 400 JPY, and bottles from 2,500 JPY. Be sure to try an order of the [Spare Ribs of Daniel's] (1,130 JPY) along with your wine. These thick-cut spare ribs are a specialty here, and their juicy, meaty flavor pairs perfectly with red wine!
Daniel's Sole
19. Uru (Karasuma Oike / Gastropub)
Uru is a standalone restaurant located in an old house built over 100 years ago that has since been remodeled, and offers Italian fare and wine. Start your meal with the [Amuse Set], consisting of 3 of the day's recommended appetizers, and of course, a glass of wine! There are 6 options alone for glasses of wine, such as the [Sparkling Wine of the Day], the [Dry White Wine], and the [Deep, Rich Red Wine], each of which is 600 JPY. The [Trippa Tomato Sauce Linguine] is one tasty option here, featuring an aromatic sauce of tomatoes stewed with white wine that goes well with vegetables.
Uru
20. Muromachi Wakuden (Karasuma Oike / Japanese & Kaiseki Cuisine)
Muromachi Wakuden is known as one of the most iconic ryotei (high-class Japanese restaurant) in Kyoto. Here, they use seasonal vegetables and seafood delivered from Kyotango to prepare a variety of Japanese dishes with deep yet delicate flavors that are only possible at a long-established restaurant like this one. The menu consists of Kyo-kaiseki courses for both lunch (from 7,000 JPY) and dinner (from 15,000 JPY). Please visit to savor high-quality Japanese cuisine made from Kyotango ingredients such as oni-ebi (a type of shrimp), abalone, and conger eel. There is a huge variety of wine available as well, from domestic Koshu wine to Opus One from California.
Muromachi Wakuden
21. GRIDDLE FORCE Itsuraku (Karasuma / Original Cuisine)
The teppanyaki cuisine at this restaurant is not only delicious but also beautifully arranged. These meat dishes use primarily ingredients gathered from the local Kyoto area, and the seafood dishes have a strong seasonal aspect that will surely stoke your appetite. The [Lamb Tenderloin] (2,200 JPY) is low in fat, and this soft cut is cooked with garlic and basil, resulting in a wonderfully fragrant dish. This spot also has a large wine selection, which generally consists of around 30 - 40 varieties, including sparkling wine, reds, and whites.
GRIDDLE FORCE Itsuraku
22. Kakyo (Higashiyama / Japanese Cuisine)
Kyoto's Higashiyama area is full of restaurants renowned for Japanese cuisine, but Kakyo has still succeeded in distinguishing itself among the pack with its original, delicious, and visually appealing food! The owner and chef studied in famous restaurants in Kyoto as well as in Bordeaux, France, and also holds a senior sommelier license. As a result, Kakyo has a selection of some 100 wines at any given time! You will certainly be impressed by the superb pairings of food and wine here, and one option certain to brighten up your table is the [Dinner Course] (10,000 JPY). This course consists of a total of 10 dishes, including appetizers and a main course, that are replete with seasonal ingredients.
Kakyo
23. Restaurant Shin (Jingu-marutamachi / French Cuisine)
This French restaurant has a stylish atmosphere and is located in a remodeled Kyoto townhouse with eye-catching white walls. The food here is created using fresh vegetables brought in from local contracted farmers that same morning, as well as exceptionally fresh seasonal seafood. It is not only delicious, but looks great, too! The [Dinner Course] (from 4,500 JPY) has many dishes that beg to have their picture taken, such as the [Domestic A5 Kuroge Wagyu Grilled Steak with Fresh Vegetables from Sonobe, Kyoto]. There is a primarily French selection of wines to accompany your meal that have been personally chosen with great care by the chef.
Restaurant Shin
24. Fushimi-no-Kakurega Teppo (Fushimi / Japanese Cuisine)
This izakaya has a modern Japanese aesthetic based on a Kyoto townhouse motif and offers seasonal seafood delivered directly from Maizuru, a well-respected fishing area. There are many great choices here, but the standout option is the [Teppo-maki] (1,298 JPY). This large rolled sushi is stuffed with shrimp, squid, eel, and other freshly-caught seafood delicacies from Maizuru, and can be enjoyed either as an accompaniment for drinks or as a meal in and of itself! For diners thinking about enjoying a drink with their Teppo-maki, glasses of wine start from 598 JPY and feature labels from around the world.
Fushimi-no-Kakurega Teppo
25. PIZZERIA da NAGHINO (Higashiyama / Italian Cuisine)
PIZZERIA da NAGHINO's doesn't simply stop at offering great food but has also faithfully recreated the feeling of a restaurant in Naples. Over 80% of the ingredients used here are imported from Italy, including the cheese, olive oil, and tomato sauce. The pizza, cooked in an authentic wood-fired oven, has a wonderfully savory scent of wheat and cheese! Be sure to try the highly satisfying [Polipo Pizza] (1,700 JPY), a spicy pizza topped with octopus. There is also a good wine selection here that naturally features mostly Italian varieties!
PIZZERIA da NAGHINO
26. Craftman (Karasuma / Bar & Cocktails)
As the name implies, Craftman is a bar offering 25 primarily domestic craft beers, along with food based on Italian cuisine that goes well with the beer. This spot, a convenient 2-minute walk from Karasuma Station, is popular with tourists and businessmen alike. Craftman also has quite a few wines on offer, focusing on French and Italian brands, and one of these premium glasses of white or red wine starts from 900 JPY. Pairing the richly flavorful salty cured ham of the [Caprese] (1,100 JPY) with your drinks is a recommended choice!
Craftman
27. KYOTO TOWER SANDO BAR (Kyoto / Standing Bar)
This bar, located in Kyoto Tower, offers a wide selection of local drinks, including Kyoto wine, craft beer, and local sake. You have to try the wine from Tamba here! Wines born from Kyoto's soil - such as sparkling Kyoto Joshu wine made with white apricots, as well as unfiltered Tegumi brand wine, pasteurized only once before packing - have to be tried as well. You can also order from a variety of sake, which is another kind wine after all, albeit one made with rice!
KYOTO TOWER SANDO BAR
28. DINING BAR W (Gion-shijo / Izakaya)
Diners here can enjoy a meal and drinks amidst an extravagant interior featuring marble countertops shining with gold! The menu consists mainly of meat dishes, which pair well with drinks. For example, the [Authentically-Prepared Roast Beef] (1,280 JPY) pairs perfectly with wine. The [Grilled Steak Mountain] (3,680 JPY) is also quite popular and features he
Disclaimer: All information is accurate at time of publication.