Publish-date: Mar 28 2019 Update-date: Jun 15 2020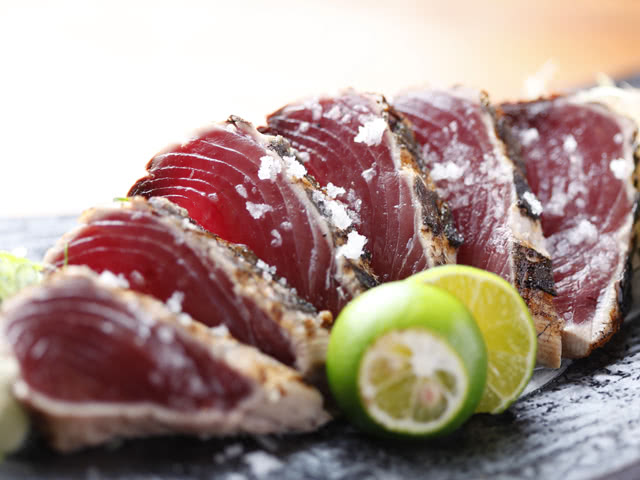 The Shikoku region is packed with beautiful nature and tasty food, but even those who have been to Japan many times may not have visited yet. So, here is a 5-minute guide that introduces the appeals of Shikoku as well as restaurants in the region for enjoying its local foods!

What is Shikoku?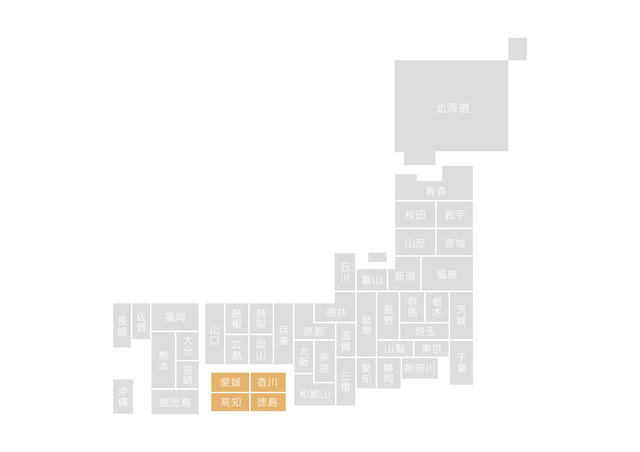 The Shikoku area is located in southwestern Japan. It is an island consisting of the four prefectures of Tokushima, Kagawa, Ehime, and Kochi. It is surrounded by the sea and has steep mountains in its central region. Its rich nature, such as the beautiful rivers that flow from the mountains to the sea, is one of its appeals. In Shikoku, you can enjoy a varied landscape with the calm Seto Inland Sea in the north and the dynamic Pacific Ocean in the south. The island is also full of unique local foods. It is a place where you can experience history and traditions that differ by locale.

1. Tokushima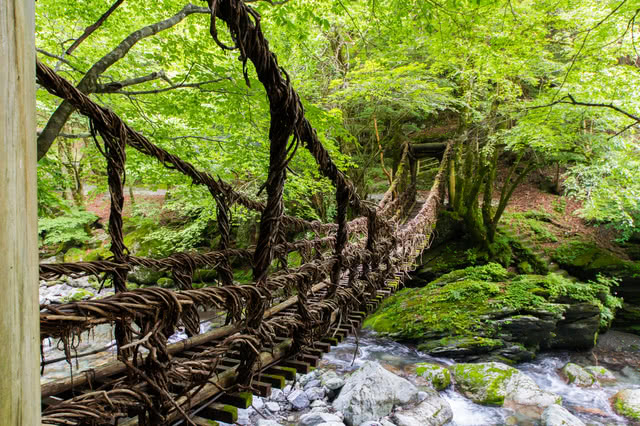 Tokushima is located at the eastern end of Shikoku and is connected with Honshu (the main island of Japan) through the bridges Onaruto and Akashi Kaikyo. It is famous for the whirling tides (a natural phenomenon where sea water violently flows in a whirl shape) in Naruto Strait that can be seen from Onaruto Bridge and are said to be the largest in the world. Iya Valley, a beautiful V-shaped valley, is also very popular. In particular, Kazura Bridge, made by weaving plants together, is a spot that many people visit. Walk across to enjoy the thrill of it swaying every time you take a step, and the sight of the valley floor peeking through the gaps between the planks.
Some specialty dishes of the prefecture are Tokushima Ramen, Tarai Udon, and Iya Soba. Tokushima also has an abundance of fresh ingredients from the mountains and sea, among which the Awaodori chicken is a must-try specialty, as it is made by a free-range local chicken breed characterized by rich, sweet flavors and a satisfying texture.

Restaurants for Enjoying Tokushima's Specialty Dishes
Zatorijiro (Tokushima / Izakaya)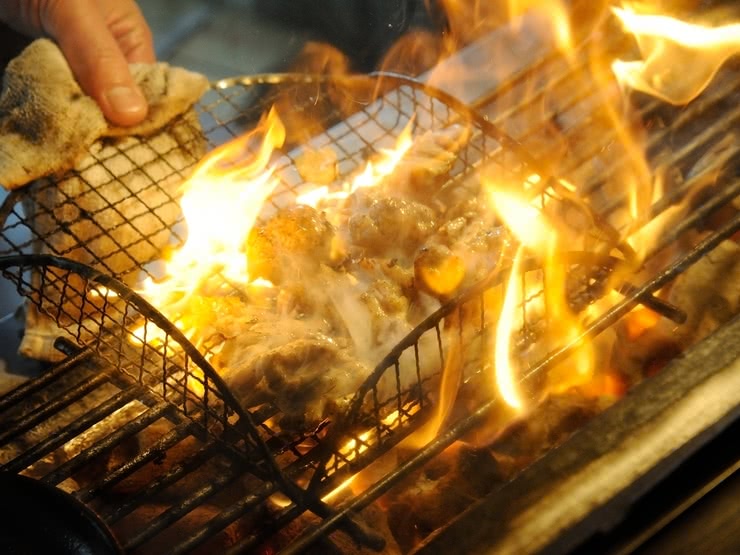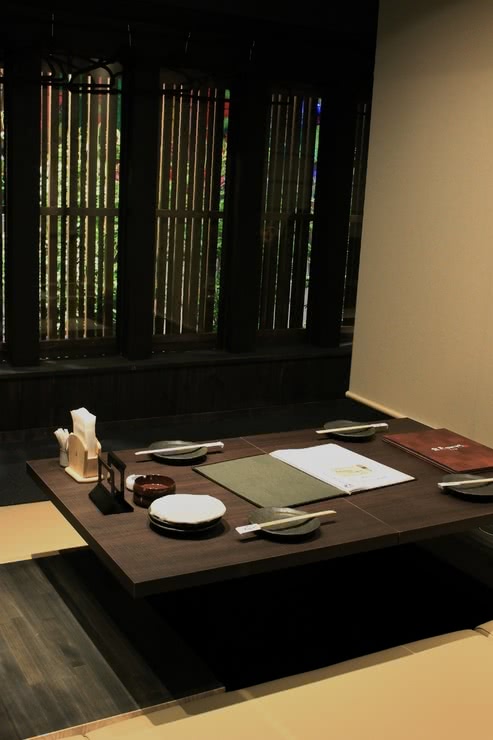 This is a restaurant specializing in Awaodori chicken that was raised in a nature-rich environment. The signature menu item is the [Awaodori Barayaki] (medium 780 JPY / large 1,280 JPY), where chicken breast meat with the rib meat still attached is cooked over charcoal, trapping its umami (Japanese savory taste). [Dried Awaodori] (500 JPY), of which there is only 10 servings a day, is another recommended dish where the umami of the chicken is maximized by drying it for 48 hours overnight. They make sure the whole chicken can be savored, such as by taking dashi (broth) from the chicken bones and searing or cooking parts like the liver.

Zatorijiro
Open: 5:00 pm - 12:00 am (L.O. 11:30 pm)
Closed: Sunday (but may change if Monday is a national holiday)
Average price: 3,500 JPY
Address: 1F, KENBAN Bldg., 1-20, Tomida-machi, Tokushima-shi, Tokushima

2. Kagawa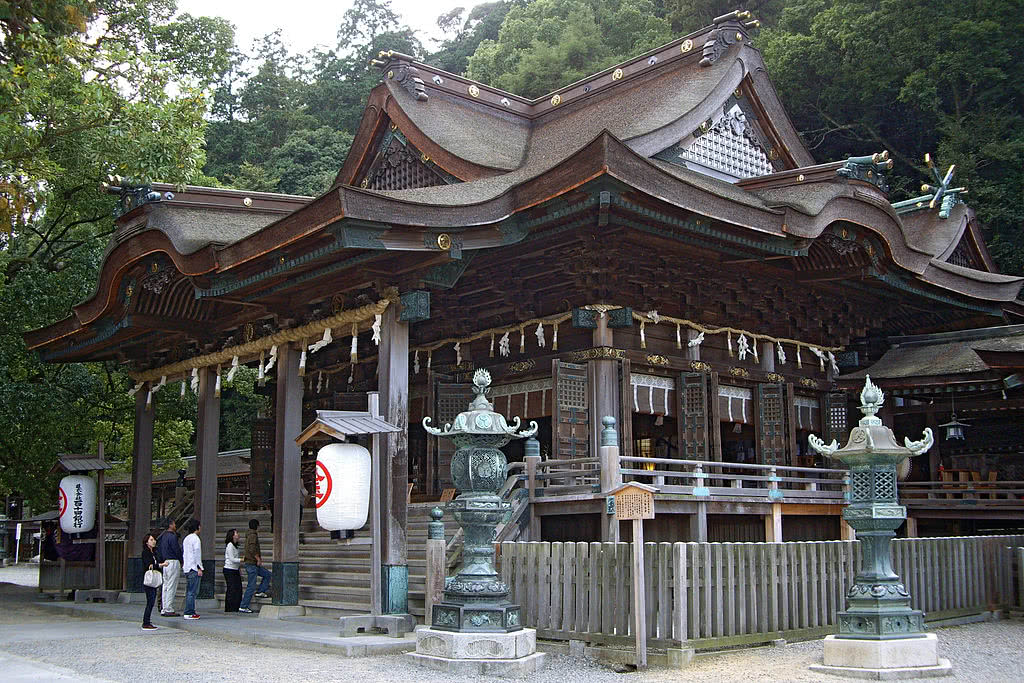 The place to visit in Kagawa, which is in northeastern Shikoku, is Kotohira-gu. It is a Shinto shrine that has long enshrined a sea deity and is famous for the long stone stairs that lead to its approach. The hall of worship in the main shrine building is at a spot that is 251m above sea level, and there is an observatory nearby from which one can get a grand panoramic view. Ritsurin Garden, a Japanese garden which presents a different beauty each season, is another highlight. There are numerous islands, large and small, on the Seto Inland Sea, and it is also popular to take a boat to visit them.
The most famous regional food is Sanuki Udon, but the Honetsuki-dori (bone-in chicken), which could be considered to be the prefectural soul food, is also recommended. Flavored with a special garlicky spice mixture, this chicken may get you hooked!

Kisetsuryori Dochiraika (Katahiramachi / Japanese Cuisine)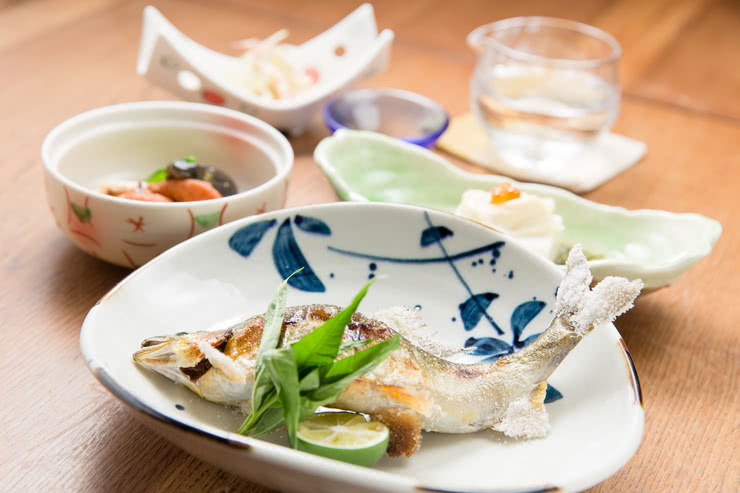 This is the place to savor the bounties of the sea. It is a restaurant that serves kaiseki (multi-course Japanese cuisine) that includes super fresh sashimi and chargrilled fish that is crunchy and aromatic on the outside and juicy inside. The restaurant is dedicated to serving local ingredients, which is why most of the ingredients in their simmered seasonal vegetable dishes are from Kagawa, as is their rice. The [Seasonal Omakase Course] can be a casual 7-course meal (3,800 JPY) or a satisfying 9-course meal (5,000 JPY). There is also a wide selection of local sake (Japanese alcohol) to be enjoyed with the food.

Kisetsuryori Dochiraika
Open
:
[Weekdays, Saturday] Lunch 11:30 am - 2:00 pm / Dinner 6:00 pm - 10:00 pm (last order 9:30 pm)
Closed
:
Sunday
Average price
:
[Dinner] 4,500 JPY / [Lunch] 1,000 JPY
Access
:
Right next to the Takamatsu City Museum of Art (on Bijitsukamminami-dori)
Address
:
101 Nakamura Building , 1-8 Kajiyamachi , Takamatsu, Kagawa
(
Map
)
More Details
 Reservation 
3. Ehime
Ehime consists of the northwestern part of Shikoku and the small islands on the Seto Inland Sea. There is much to see in Ehime, including Setouchi Shimanami Kaido - a road that connects Honshu and Shikoku - and Shikoku's largest castle, Matsuyama Castle. One particularly popular attraction in Ehime is Japan's oldest onsen (hot spring), Dogo Onsen. The Japanese-style architecture of Dogo Onsen Honkan, which stands in the middle of the town, has wonderful atmosphere and is said to be the model for the bathhouse in the Studio Ghibli animation, Spirited Away.
Ehime is famous for its dishes made with sea bream, the most famous of which is Taimeshi (sea bream rice). There are two types of Taimeshi: one where a whole sea bream is cooked with the rice, and another where marinated sea bream sashimi is served on rice. Also be sure to try the bonito, characterized by its springy texture, and local brand name meats that have been raised for the highest quality flavors.

Minamiya Kitaya (Okaido / Izakaya)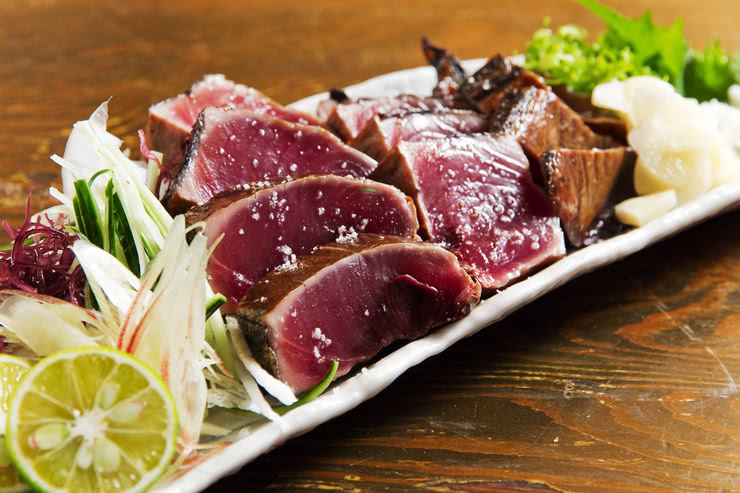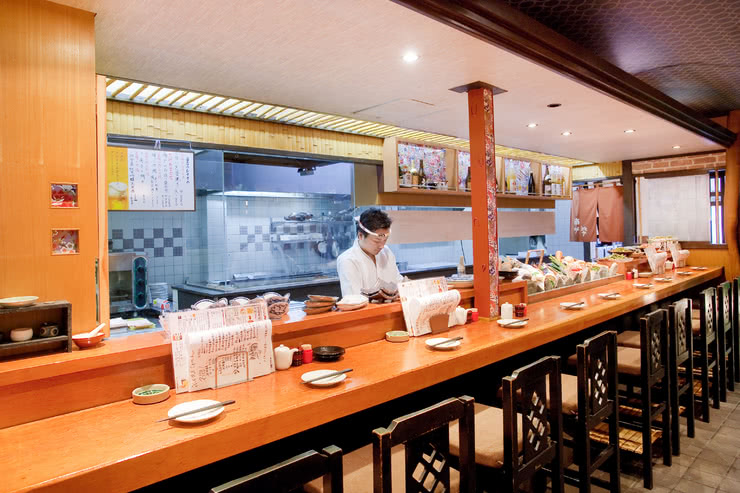 Minamiya Kitaya has many fans both locally and outside of the prefecture. It is a restaurant that prides itself in its local cuisine, and it is a place where you can savor tasty fish from the Seto Inland Sea and seasonal flavors nurtured by Shikoku's nature. The [Bonito Salt Tataki]* that is prepared once the order is placed comes with a thrilling performance of the bonito being cooked with burning straw. It is made with fresh bonito procured directly from Fukaura Fishing Port in Ainan-cho, Ehime Prefecture, which has the largest catch in all of Shikoku. There is a lineup of more than 10 different local sake as well. The restaurant also serves Taimeshi and dishes made with Himekko chicken.
*Bonito Tataki: A dish in which the bonito is seared, sliced thickly, and served with condiments and sauce or salt.

Minamiya Kitaya
Open
:
Normal hours: 5:00pm - 12:30am (last order 12:00am)
Closed
:
None
Average price
:
[Dinner] 3,500 JPY
Access
:
Walk five minutes toward Katsuyama from the Nibancho intersection on Yasakadori street, turn right in front of the Washington Hotel, and it will be located on the first floor of the next building.
Address
:
ST Bldg. 1F, 1-7-9 Niban-cho , Matsuyama-shi, Ehime
Nanohana (Okaido / Japanese Cuisine)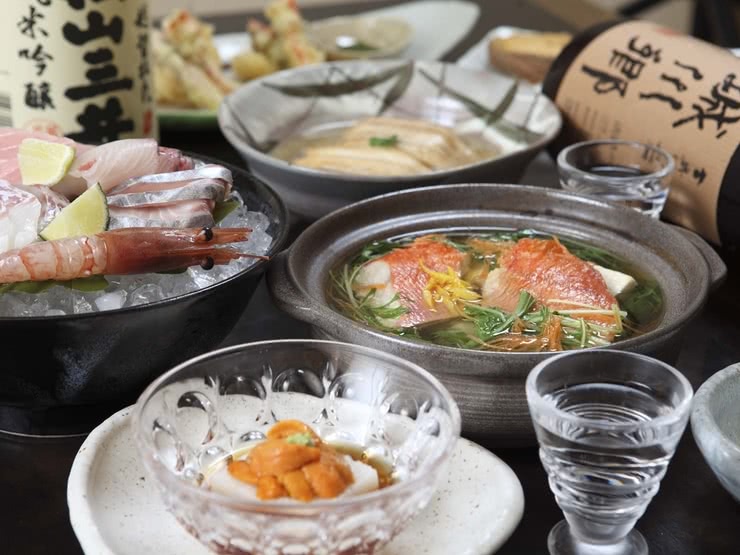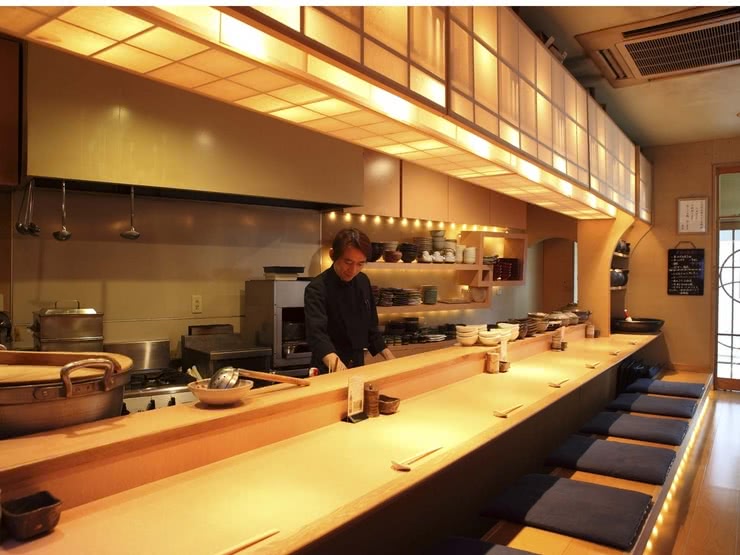 Nanohana is a restaurant where diners can enjoy great local sake with their original Japanese dishes. The menu is full of items that represent the flavors of Ehime, such as the luxurious [Grilled Abalone with Sea Urchin Sauce] (2,200 JPY), [Shabu-Shabu* of Local Seafood] (2,800 JPY), and [Wagyu Sirloin Steak and Veggie-rich Salad with Grated Sauce] (1,900 JPY) which is made with extremely tender Iyo beef. There are also menu items made with special, seasonal ingredients, such as pufferfish, longtooth grouper, sea bream, and daggertooth pike conger.
*Shabu-shabu: A dish of thinly sliced meat or fish cooked by being briefly dipped in boiling dashi. Enjoyed with some sauce.

Nanohana
Open
:
[Weekdays, Saturday, National Holidays, Day before National Holidays] Lunch: 12:00 - 15:00 Reservations only / Dinner: 17:00 - 23:00
Closed
:
Mondays
Average price
:
[Dinner] 5,000 JPY / [Lunch] 3,000 JPY
Access
:
A 3-minute walk from Okaido station on the Iyo Railway/A 3-minute walk from the site where the Ichibancho Laforet was demolished
Address
:
Monarch II 1F, 2-4-2 Ichiban-cho, Matsuyama, Ehime
(
Map
)
More Details
 Reservation 
4. Kochi
The appeal of Kochi, located in southern Shikoku, is its dynamic nature. Approximately 84% of the prefecture is covered in forest, and it is bordered on the south by the magnificent Pacific Ocean. The prefecture is also known for the beauty of its rivers, the most popular of which is Shimanto River. Shimanto River is sometimes referred to as "Japan's last clear stream" and is a place to enjoy outdoor activities such as canoeing and kayaking. Cape Ashizuri - a peninsula jutting out into the Pacific Ocean from which you can see the azure ocean and the horizon - and Ryuga Cave, a stalactite cave that hides a mystical world, are also not to be missed.
The most famous local dish of Kochi, which has long been an active bonito fishing area, is Bonito Tataki. The bonito is enjoyed with condiments like onions, myoga ginger, and green perilla leaf, as well as sliced garlic and a kind of sauce or salt. Be sure to try the karaage (deep-fried foods) of the Shimanto specialty Kawa-ebi (river shrimp) and sashimi of Shimizu Saba (blue mackerel) from Tosashimizu City as well.
Related link: Enjoy dishes made with ingredients from nature-lush Kochi Prefecture in Tokyo!
https://savorjapan.com/special/kochi/restaurant.html
Restaurants for Enjoying Kochi's Specialty Dishes
Daikokudo (Harimayabashi / Izakaya)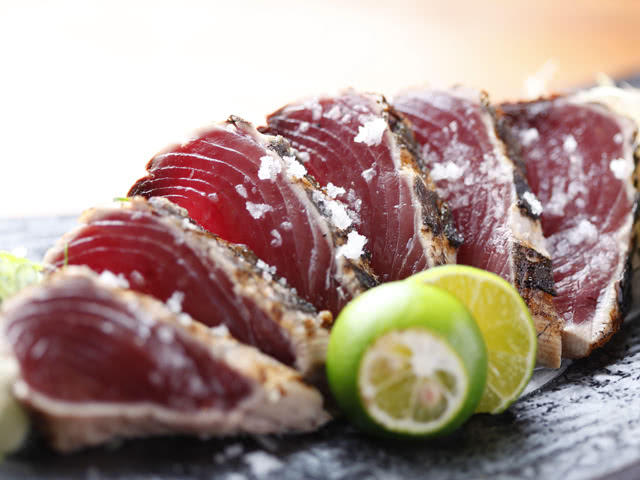 The pride of this izakaya (Japanese pub) is the Bonito Tataki that is enjoyed with salt. The [Tosamaki]* (800 JPY), which originated here and is now a popular Kochi dish, also cannot be missed. There are many more dishes made with ingredients from the ocean and rivers of Kochi. In particular, the [Moray Eel Karaage] (695 JPY), rarely seen in other prefectures, and the [Shimanto Shrimp Karaage] (495 JPY) which is made using freshwater shrimp from Shimanto River, are recommended. There is also a wide selection of alcoholic beverages, starting with local sake, but also including the unusual refined brown sugar sake and the crisp-tasting potato shochu (another kind of Japanese alcohol).
*Tosamaki: A maki zushi (rolled sushi) of Bonito Tataki.

Daikokudo
Open
: [Weekdays, National Holidays] 5:00 pm - 12:00 am
[Saturday, Day before National Holidays] 5:00 pm - 1:00 am
Closed
: Sunday *Closed the following Monday instead if Sunday is a national holiday
Average price
: 4,000 JPY
Address
: 1-2F, New Belgium-kan, 1-7-5, Harimaya-cho, Kochi-shi, Kochi
Map
More Details
Be sure to refer to this article when visiting Shikoku, a region of full of charm.
Disclaimer: All information is accurate at time of publication.