Publish-date: Dec 01 2017 Update-date: Aug 06 2019
Like and Share us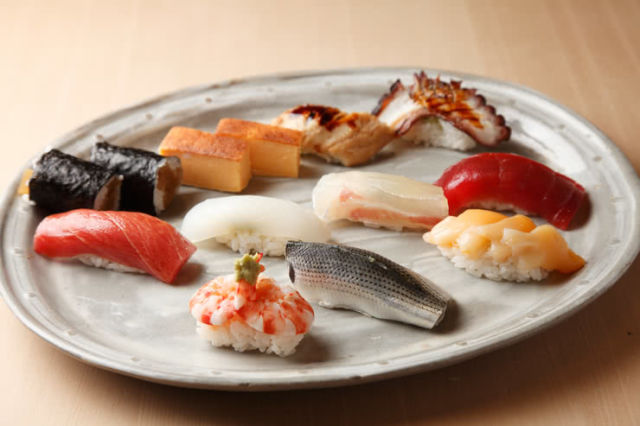 Tokyo has many wonderful restaurants - so many that it is hard to decide where to go to. Below are some restaurants that are popular on the famous Japanese gourmet site, Hitosara.
1. Ginza Sushi Aoki
Next is a famous restaurant that is constantly popular in the gourmet battleground of Ginza. This is a restaurant where you can enjoy orthodox sushi made in a traditional style. The recommended ingredient is the [Otoro] (fatty tuna). It is served at its prime time so that you can experience a melt-in-your-mouth texture and rich aroma. It is a dish that is offered at any sushi restaurant, but you will be amazed by its freshness and the difference in its outstanding flavor here. The restaurant also serves creative sushi that are delicate and beautiful to look at. They are certain to satisfy both your taste buds and your eyes!
Ginza Sushi Aoki
This is a restaurant where you can experience Japan's four seasons through Japanese cuisine (washoku). The food offered here is based on food from Kyoto, which is considered to be the heart of this cuisine. It is offered in Kaiseki-style (courses). They carefully select ingredients based on the season, so if it is autumn, courses with plenty of [Matsutake Mushrooms] are recommended. This includes the [Hamo to Matsutake no Konabe Jitate], a luxurious and sophisticated hot pot dish of daggertooth pike conger and matsutake mushrooms. The [Kamonasu Jelly-gake] - a dish of deep-fried eggplants and shrimp served with ponzu jelly - is also popular.
Ginza Wakuta
3. Tempura Kondo
This is a famous restaurant for tempura that has been highly praised by celebrities from both Japan and abroad. This restaurant turns tempura - a simple dish made by deep-frying battered ingredients - into sophisticated cuisine by combining various ingredients and adding special flavors. Some recommended dishes include the soft [Satsumaimo], which is made by rolling sweet potatos around in oil for more than 30 minutes, and the [Ninjin], which consists of julienned carrots that have been fried together to create a three-dimensional mass. You can savor the elegant sweetness and flavors of seasonal vegetables in these dishes.
Tempura Kondo
4. Tamahide
This is a restaurant specializing in Shamo (a breed of chicken) cuisine that was established in 1760. Its signature dish is the [Torisuki], a sukiyaki (hot pot stew) in which all the different parts of Shamo are served. However, it is also known as the originator of the popular [Oyakodon] (rice bowl dish with chicken and eggs). Dishes of cooked chicken and eggs served on top of rice already existed before, but this restaurant created the current style of oyakodon, where the chicken is simmered in warishita (the sauce for [Torisuki]) and cooked with beaten eggs. The traditional warishita at this restaurant does not have any sugar or sake (Japanese alcohol) in it. The rich flavors produced by combining soy sauce and mirin (sweetener) enhance the umami flavor of the Shamo.
Tamahide
5. Kagurazaka Bettei Torijyaya
This is a restaurant where you can enjoy food from the Kansai region in a traditional Japanese-style building. They offer a wide range of dishes, including the [Udon Kaiseki], which has udonsuki (a hot pot dish of udon noodles and a variety of other ingredients in light dashi stock), as the main dish. The ingredients are all high-quality seasonal items, and the chicken in particular is procured from different regions depending on the dish. The [Yakitori (Shio)] that uses Nambu Jidori (free-range chicken) from Iwate Prefecture is outstanding. Unlike most restaurants, it is not served on skewers, so you can fully enjoy its umami flavor.
Kagurazaka Bettei Torijyaya
6. Beefsteak Kawamura Ginza Branch
This is one of the few restaurants in Tokyo specializing in the highest grade of Kobe beef. Rare beef from cows that have received the highest award in cow competitions is served here. The menu includes a variety of courses, such as the [Tokusen Kobe Beefsteak Course], which includes steaks of this outstanding beef. The beef has a low melting point, so you can enjoy the feeling of it melting in your mouth and exuding its rich umami flavor. There is also a selection of quality wines from around the world that have been carefully chosen to pair well with Kobe beef.
Beefsteak Kawamura Ginza Branch
7. Nihonbashi Taimeiken
*Actual product may vary from photo shown
This is a restaurant specializing in Yoshoku (the general term for European and American dishes that have been modified with a Japanese twist) that was founded in 1931. Its signature menu includes the [Omurice] (rice fried with ketchup that's wrapped in an omelet) with a fluffy and melty texture, as well as [Coleslaw], [Potato Croquette], and [Gratin]. The first floor is a casual restaurant where you can enjoy these popular dishes at reasonable prices, while the second floor is a more upscale restaurant that serves a variety of dishes, including a selection of small dishes made with fish and meat.
Nihonbashi Taimeiken
8. Restaurant Kamiya
This is a restaurant in Iriya, which is a traditional working-class neighborhood in Tokyo. At this restaurant, you can enjoy well-balanced dishes that taste the same as when the restaurant first opened, along with new flavors that have been added to suit the changes in time. Its most popular dish is the [Tongue Stew], made with a rich demi-glace sauce on tongue that seems to melt in the mouth. The large and juicy [Menchikatsu] (deep-fried hamburger patties) is another signature dish. It has a great texture and umami flavor, which is achieved by mixing minced beef and pork meat together, and then frying the mixture to a crunchy perfection with special, fresh breadcrumbs.
Restaurant Kamiya
9. Echikatsu
This is a restaurant that was founded in 1871. It specializes in sukiyaki. At this restaurant, you can enjoy a fantastic meal in an elegant environment that has a view of their perfectly maintained garden. The signature dish here is the [Kuroge Wagyu Sukiyaki]. The light, homemade soy sauce-based warishita seasoning is prepared by the proprietress a day in advance to make it taste amazing. The high-quality beef is chosen by the restaurant's veteran staff, who specialize in sukiyaki meats, and goes fabulously with vegetables like shungiku (greens), negi (scallions), and shiitake mushrooms.
Echikatsu
10. Ginza Kojyu
This is a famous restaurant for washoku (Japanese cuisine) that is patronized by gourmands from across Japan and around the world. It has been awarded stars on a world-famous gourmet guide every year since 2007. Both the lunch and dinner menus consist only of the chef's selection (omakase course). At this restaurant, you are guaranteed to taste the outstanding flavors of carefully selected, seasonal ingredients. The ingredients change with the season, but some examples of dishes that they serve is the [Awabi no Karaage], which consists of deep-fried abalone that has the gentle aroma of the sea, and [Otsukuri] - a plate of sashimi, such as maguro (tuna) and madai (red sea bream). You will be served a variety of dishes that can enjoy with carefully chosen wines and sake.
Ginza Kojyu
11. Unagi Komagata Maekawa Main Branch
This is an established restaurant specializing in [Unagi] dishes that has a history of around 200 years. The eel served here is high-grade domestic eel that's fluffy and soft. It is distinguished by its fat, which literally melts in the mouth. You can savor the umami flavor of the eel in several of their dishes, such as [Unajyu] - which consists of aromatic eel that is grilled with a special sauce from when the restaurant first opened before being put on top of rice - and [Unagi Shirayaki], which is eel eaten with soy sauce and wasabi. The restaurant has large windows that give you views of Sumida River (Sumida-gawa) and Tokyo Skytree. It is a great place to enjoy the atmosphere of Tokyo's traditional working-class neighborhood.
Unagi Komagata Maekawa Main Branch
12. Kohaku
This is a restaurant serving Japanese cuisine that has been awarded stars on a world-famous gourmet guide for 2 consecutive years. The dishes on its menu change with the seasons. Some examples include the [Torafugu-shirako no Sumibiyaki] (chargrilled soft puffer fish roe), which has a deep umami flavor and wonderful aroma, and [Amadai no Matsukasa-yaki Truffle Sauce], which fantastically combines the texture of tilefish with the aroma of truffles. This restaurant creates outstanding and unique flavors that don't deviate the tenets of Japanese cuisine by creating new course combinations through using unusual ingredients.
Kohaku
13. Makimura
This is a famous restaurant where you can enjoy fantastic Japanese cuisine in a simple and comfortable space with white stucco walls. The menu consists only of courses made with carefully selected seasonal ingredients. The dishes are all presented beautifully in lovely plates and dishes. The restaurant's signature dish is the [Taichazuke]. It is a dish of wild red sea bream sashimi marinated in a sesame sauce on top of fluffy rice. It is first eaten as it is, and then finished by eating the remains with hot dashi stock. With this dish, you can enjoy the transformation of the umami flavors in sea bream as it changes from raw to lightly cooked.
Makimura
14. La BOMBANCE
La BOMBANCE, which means "feast" in French, is a popular restaurant that has been awarded stars on a world-famous gourmet guide for 5 consecutive years. Though its cuisine is firmly based in Japanese traditions, it has a free style that goes beyond particular categories. For example, it will adopt Western ingredients like foie gras and truffle, or creating a mousse using seafood dashi stock. The presentation is lavish, and all the dishes and plates have a sense of beauty. This is a restaurant where you can revel in food using all of your senses.
La BOMBANCE
15. Sukiyabashi Jiro
The first restaurant is Sukiyabashi Jiro, which is considered to be the pinnacle of sushi restaurants. It is a famous restaurant that has been patronized by the Japanese prime minister, the former American president (Barack Obama), chefs from around the world, and Hollywood stars. There is even an American documentary about the sushi chef, Jiro Ono, who makes sushi with the most streamlined and sophisticated techniques imaginable. The only menu available is the omakase (chef's selection), where the best ingredients and parts of the day are served. You'll be able to savor the incredible flavors created by the ingredients in combination with rice that gently falls apart the moment you put it in your mouth!
Sukiyabashi Jiro
16. Nodaiwa
Nodaiwa
Disclaimer: All information is accurate at time of publication.