Publish-date: Aug 18 2018 Update-date: Feb 14 2019
Like and Share us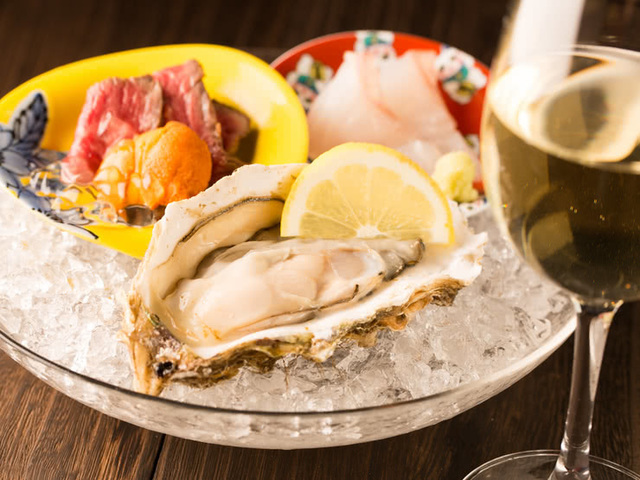 Asakusa, famous for Senso-ji Temple, and Ryogoku, renowned as the "sumo town," are two popular tourist spots in Tokyo. Here is a selection of 15 restaurants and izakaya (Japanese pubs) where you can dine after sightseeing around the area.
1. Sumida Bar Vigor (Tokyo Skytree / Japanese Cuisine - Unique Gastropub)
This is a gastropub facing Tokyo Skytree. Other than being the 2nd generation chef of a sushi restaurant, the owner also trained at a ryotei (traditional Japanese restaurant), so he's extremely skilled. Enjoy his creative dishes that combine the techniques of Japanese cuisine with a touch of innovation. His signature dishes include the [Luxurious Hors d'Oeuvres], cured sashimi that is rich in umami (Japanese savory taste), and roast beef made by steeping beef in hot water. There are also lots of premium sake (Japanese alcohol), as well as a wine cellar that you can freely enter to pick your wine.
Sumida Bar Vigor
2. Kappo Tonbo (Honjo-azumabashi / Japanese Cuisine - Kaiseki)
This is a ryotei near the Sumida River (Sumida-gawa) with 85 years of history. Here, you can taste kaiseki (Japanese banquet cuisine with alcohol) prepared with mastery by an experienced chef. Enjoy seasonal flavors with their [Beef Sirloin Steak] and [Shabu-shabu] (sliced meat parboiled with vegetables) made with A5-ranked beef, or through their famed [Tempura]. In addition, there's also an array of creative dishes like the [Maple Saikyo-yaki] (grilled fish that's been marinated in Kyoto-style miso), which is made with a different fish each season. No matter what you order, you'll get to savor superb Japanese cuisine where the umami of each ingredient is enhanced to the fullest.
Kappo Tonbo
3. Rikyu Tokyo Solamachi Branch (Oshiage / Japanese Cuisine)
This is a restaurant specializing in gyutan (beef tongue) - a specialty of Sendai, Miyagi, that has a thick yet pleasantly chewy texture and plenty of umami. To be precise, it is the branch of a chain restaurant that's popular enough to have branches all across Sendai. Their recommended menu items are the extremely fragrant [Grilled Gyutan], cooked on charcoal, and the [Grilled Premium Gyutan], which is even more juicy and meaty than a regular gyutan! Don't miss their other gyutan-based dishes, including slow-cooked stew with a demi-glace sauce and their rich hamburg steak.
Rikyu Tokyo Solamachi Branch
4. Unagi Komagata Maekawa Solamachi Branch (Oshiage / Japanese Cuisine)
Founded 200 years ago, this restaurant specializes in unagi (eel). Their carefully charcoal-grilled [Unagi Kabayaki] (skewered eel fillets that are dipped in a soy sauce-based sauce and grilled) is a must-eat item. It is served with a secret sauce that's been added to and used for generations, ever since the establishment of the restaurant. You'll love the incredible texture of their umami-rich unagi that melts in your mouth. Other than [Unaju] (lacquer box of rice topped with unagi kabayaki) and [Kimosui] (soup with eel liver), they also have set meals that come with fresh seafood sashimi and pickled items. They also make snacks to enjoy with alcohol, like the [Assortment of 3 Kinds of Seasonal Delicacies], which is made with different ingredients depending on the season.
Unagi Komagata Maekawa Solamachi Branch
5. Pinzo (Kuramae / Italian Cuisine)
Head here to enjoy organic wines, handmade pasta, and Tuscan dishes made by a chef who trained in Italy. The menu offers a selection of simple dishes made with seasonal ingredients. One recommended item is the [Kuroge Wagyu Bolognese] (Bolognese made with a type of high-quality beef), served with seasonal vegetables. Another excellent option is their duck breast roast with an orange sauce, which has a distinctive crispy skin and tender meat. Also, don't forget to try their Parma ham sliced with a machine imported all the way from Italy. It will melt in your mouth, leaving behind the authentic flavor of raw ham!
Pinzo
6. Kappo Kariya (Ryogoku / Japanese Cuisine)
Before he founded Kappo Kariya, the first generation chef of this restaurant used to be a sumo wrestler. Nearly everyone in Ryogoku and the sumo world knows about this restaurant! Its specialty is called [Chanko] (a hot pot stew that sumo wrestlers eat on a regular basis), and it consists of ingredients stewed in a soy sauce-flavored chicken bone soup. Its flavor is based on the traditional recipe of the first generation chef. The restaurant also offers delicious dishes made with high-quality fugu (pufferfish). The wild tiger puffer used in the [Fugu Sashimi] and the [Fugu Chiri] (pufferfish hot pot stew) has a smooth texture and a delicate flavor. If you prefer something less challenging, try the [Akame Fugu], characterized by rich umami and a firm texture.
Kappo Kariya
7. Kushiage Ichikawa (Kinshicho / Izakaya)
Located in a quiet back alley, Ichikawa offers kushiage (deep-fried skewers) in a classy space. The kushiage are made by skewering bite-sized ingredients, coating them in batter, and deep-frying it. Here, the batter is made as thin as possible, resulting in a light and healthy delicacy. They're served with 10 homemade sauces, ranging from light to rich and even refreshing, so you can enjoy them in different ways. You can also choose from a variety of wines and sake that go divinely with the kushiage.
Kushiage Ichikawa
8. Il Tram (Kiyosumi-shirakawa / Italian Cuisine)
This is an Italian restaurant near the Museum of Contemporary Art Tokyo. In its tiny space with just 10 seats, the friendly and skilled owner undertakes everything from waiting to cooking, serving up his omakase course (chef's recommended course). Along with focusing on seasonal flavors, his low-fat dishes are made with reduced amounts of fresh cream and butter so that you won't feel overly stuffed afterward. Served with Gorgonzola cheese, their special [1-hour Roasted Chicory] smells amazing and is super creamy. There's also a wide selection of natural wines available.
Il Tram
9. Hosokawa (Ryogoku / Udon, Soba)
The owner of this hand-pulled soba (buckwheat noodles) restaurant is committed to only serving extremely delicious food. They carefully select buckwheat seeds from all across Japan - including Hokkaido, Ibaraki, Nagano, and Shikoku - and then turn them into flour by peeling and stone-grinding only the required amount. Their soba is made of 100% buckwheat, without adding any binding ingredients. The most recommended menu item is the [Seiro] (soba served on a bamboo basket with a flavorful tsuyu (sauce)). If you ask for seconds, they will serve soba made with buckwheat flour from another production area, allowing you to taste the difference between them!
Hosokawa
10. Sugita (Kuramae / Japanese Cuisine)
So popular that long queues form outside on weekends, Sugita's signature dish is a classic item called [Tonkatsu] (fried pork cutlet). This must-eat meal is a great example of enhancing the flavors of a dish without being extravagant. They use fresh, domestic pork, with adding the final flavor by lard from Holland, which enriches both the aroma and texture. It's fried with the technique of alternating between low and high temperatures. If you're not sure what to order, go for the [Loin Tonkatsu], and you'll get to stuff your cheeks with umami-rich pork that gets its wonderful aroma from lard and crispy texture from the thin batter.
Sugita
11. Narimachi (Oshiage / Okonomiyaki, Monjayaki)
Locals love this cozy restaurant with an old-town atmosphere. Inside, you'll find a counter and table seats, each equipped with an iron griddle, as well as tatami rooms. Cook the okonomiyaki (a savory pancake filled with cabbage, meat, and other ingredients all mixed) and monjayaki (similar but made with more watery batter) at your table and enjoy them as soon as they are ready! The most popular menu item is the [Yukinkoyaki] - a new type of okonomiyaki that superbly combines mochi (sticky rice cake) with minced meat. The voluminous modanyaki (okonomiyaki containing noodles) comes highly recommended as well.
Narimachi
12. Nuchigusui (Asakusa / Japanese Cuisine)
An Okinawan restaurant established in a renovated kominka (traditional Japanese house) in Asakusa. Enjoy their array of Okinawan products! You can taste and compare beef brands like Ishigaki beef and Motobu beef with their [Kassen Steak], or try their steak and shabu-shabu (sliced meat parboiled with vegetables) made with the popular Agu pork. They also have classics like [Goya Champuru] (stir-fry of bitter melon, tofu, egg, and pork) and [Okinawa Soba], as well as more unusual dishes. Plus, they procure craft beers and awamori (Okinawan alcohol) directly from Okinawan factories!
Nuchigusui
13. Sachi (Asakusa / Sushi)
This sushi restaurant is located in the tranquil residential area behind Senso-ji Temple. Here, you can have nigirizushi (hand-formed sushi) made with fresh seafood stocked daily from Tsukiji Market, as well as small dishes to accompany your drinks. You'll be served only the products available on the day. Example dishes include the refreshing [Sea Bream Sashimi], garnished with kabosu (a kind of citrus fruit) and green onion sprouts, and the [Stewed Abalone], which has an addictive texture and light seashore aroma. You can order a la carte, but it is also recommended to choose one of their 3 reasonably priced courses. They come with items such as sashimi and grilled and fried delicacies, along with 7 to 8 pieces of sushi.
Sachi
14. Bracali (Asakusa / Italian Cuisine)
The chef of this restaurant polished his skills at a famed restaurant called "Bracali in Italy." Their regional Italian dishes are highly praised, even by Italians. To faithfully reproduce their authentic flavors, most ingredients are imported from Italy. From handmade pasta like the [Wholewheat Stracci], which is short pasta served with fresh tomatoes, you can find lots of genuine, traditional Italian flavors, including appetizers and main dishes containing either meat or seafood.
Bracali
15. Shikahama Stamina-En (Oji / Yakiniku)
If you don't mind walking a little further, you may as well head to the well-known Shikahama Stamina-En, which is often frequented by professional chefs. It's so popular that even though it's not so easy to get to, there is always a queue outside. All tables are equipped with a gas roaster, and the atmosphere is quite old-school. Here, you can have yakiniku (Japanese BBQ) of premium meats and super fresh offal. The most popular item is the [Offal Mix], which is an assortment of innards seasoned with a salt-flavored sauce. Additionally, you may like the [Beef Fillet] of Kuroge Wagyu that you eat with wasabi, or the [Premium Beef Ribs], which are so tender that they'll melt in your mouth!
Shikahama Stamina-En
When visiting tourist hotspots like Senso-ji Temple and Tokyo Skytree, you can find lots of popular restaurants like those above within walking distance. If you're having trouble making up your mind, this list might help!
Disclaimer: All information is accurate at time of publication.